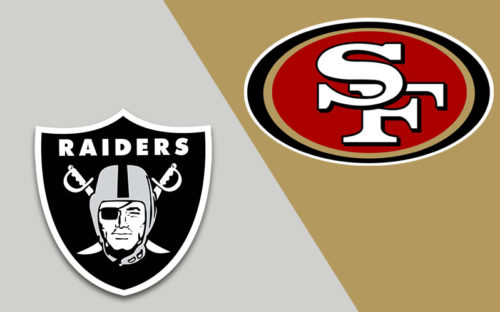 While the NFL works it through Week 16 schedule, we've got a few early odds to go and get you fully prepared for Week 17. The opening odds for this matchup were posted earlier this week. We'll update with the re-opened line for the 49ers vs. Raiders Week 17 Odds, Tips, and Betting Trends.
Josh Jacobs and Las Vegas Raiders (6-9) will face the San Francisco 49ers (11-4), who have the best-run defense in the NFL, on Sunday, January 1, at 4:05 PM ET. Jacobs leads the league in rushing yards.
In their most recent game, the 49ers defeated the Washington Commanders 37-20. The Raiders were defeated 13-10 by the Pittsburgh Steelers last week. Brock Purdy have 234 yards on 15-of-22 passing (68.2%) for the Niners in that game against the Commanders, with two touchdowns and an interception. Ray-Ray McCloud had one carry for 71 yards and one touchdown (71.0 yards per carry). In that game, George Kittle would have 120 yards on six catches (20.0 yards per catch) and two touchdowns. 
Derek Carr accomplished 16 of 30 passes for 174 yards, one touchdown, and also three interceptions for the Raiders against the Steelers. Jacobs gained 44 yards on 15 carries. He had one catch for six yards. Darren Waller have four receptions for 58 yards (14.5 yards per catch).
Betting Predictions for the 49ers vs. Raiders
Draftkings Sportsbook provides National Football League odds. The last odds update was on Tuesday at 3:31 AM. ET.
Point spread: 49ers (-5.5)

Point Total: 44.5 points

Moneyline: 49ers (-245), Raiders (+199)
December 25
Point spread: 49ers (-6.5)

Point total: (43.5)

Moneyline: 49ers (-285), Raiders (+240)
December 20
Point spread: 49ers (-5)

Point total: (43)

Moneyline: 49ers (-225), Raiders (+190)
49ers Betting Information
This season, the 49ers are 10-5-0 against the spread.

So far this season, the 49ers are 5-2 against the spread when they are favored by 5.5 points or more.

Seven of fifteen 49ers games have gone over the total (46.7%) this season.
Raiders Betting Information
The Raiders are 7-8-0 against the spread this season.

The Raiders enclosed the spread during their only game as 5.5-point underdogs.

This season, Raiders games have surpassed the over/under at a rate of 53.3%. (8x in 15 games with a set point total).
Do you want to bet on this NFL game or any other matchup? Legally wager online with a reputable partner: DraftKings Sportsbook, CasinoWatchNJ's official sportsbook partner in NJ, PA, and MI. Bet now!