888 Poker NJ is one of the first online poker NJ sites that launched when online gambling was legalized in the state of New Jersey. Their site offers No-limit Hold'em and Pot-Limit Omaha.
You can also find cash games, sturdy multi-table tournament schedules, and Sit & Go's. The company is also partners with Caesars Interactive Entertainment from its iGaming partner.
Continue reading our 888 poker review to learn more about the legalities, guides, and insights regarding 888poker USA.
888 Poker NJ Sign-up Bonus
Online Poker Room
888 Poker NJ
Deposit Bonus
$20 free + 100% up to $1,500
888 Bonus Code
Click to Claim Promo
Available States
New Jersey
Physical Casino Partner
Caesars Atlantic City
Last Updated
September 2023
How to play 888 Poker NJ?
Playing 888 Poker USA is as easy as any other game you've played online. There are only 2 steps that you have to do for you to be able to play 888poker USA.
Take note that 888 Poker USA is actually giving out $20 for free by just signing up for 888 poker US players on their website!
Here are the following steps:
Sign Up

888 Poker NJ Download
Viola! After signing up, then you just have to download the 888 Poker NJ App for you can now start playing the game.
Another 888 Poker New Player Bonus!
New 888poker USA players are eligible to receive a 50% match up bonus of up to $500 on their first deposit. In addition to that, new players can receive another 50% match bonus but for up to $1,000 on their second deposit by just using the promo code link.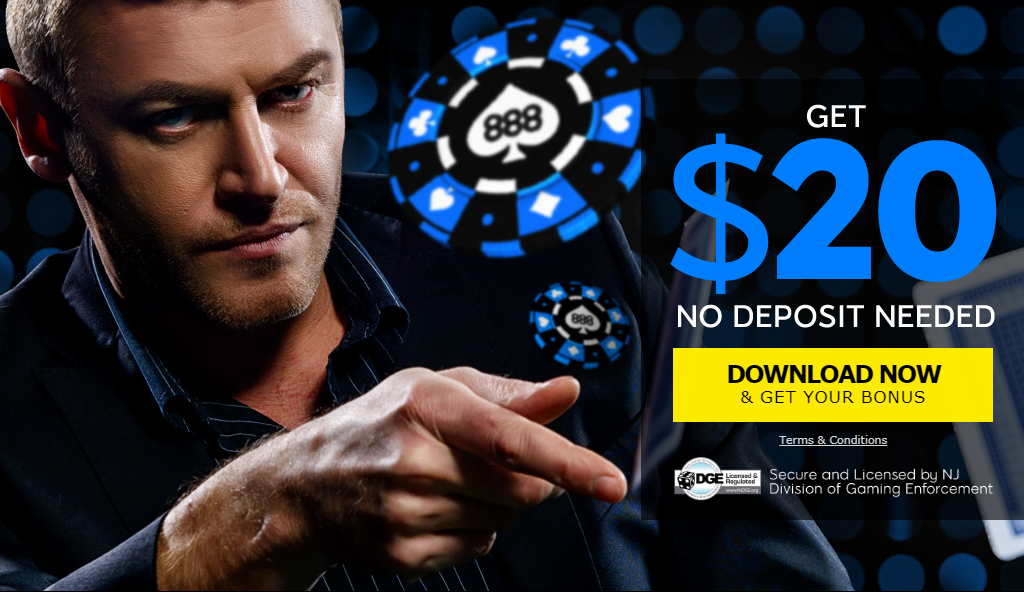 Different Types of Poker Format
Cash Games
Cash games use real money as chips to play the game. But each cash game differs from the allowable minimum and maximum amount in a poker room or table.
Sit & Go's
This is one of the most popular formats, especially for new poker players. When it was first introduced, the structure of this format is usually played by 9 or 10 players with different time blind levels.
But right now, players prefer playing 6 Max Turbo. 6 Max Turbo is a type of Sit & Go that is popular because of its 6 minutes blind level.
Every 6 minutes from starting the game, the level increases, and while the level increases, it increases both the small and big blinds.
Multi-table Tournaments
Multi-Table Tournaments or MTT is widely popular online because of its small entrance fee. Usually, 888poker NJ players who joined are those who just want to compete with other people.
But what they seem to overlook is that because of the small entrance fee, it attracts a lot of people to compete with. An example of this one would be a $1000 tournament where the prize pool is $100,000 and the entrance fee would be around $1,100 (with a 10% rake).
The tournament organizers would probably handle around 500-2000 participants for that tournament.
BLAST Poker
Now, this format is unique for 888 NJ Poker players. Blast Poker is a different type of Sit & Go format.
In this one, you could win big!
3 players are in for a surprise as they compete for a randomly generated prize pool in a time-limited BLAST Sit & Go format. Each time you play BLAST Sit & Go, you could get a chance to for playing for a prize pool of up to 10,000 times your buy-in!
In this format, if ever the table hits the time limit and there's still no winner, everyone will automatically go all-in until there is only 1 left from the 3 players in the table. Because of this, it makes everything so fun and exciting especially if the prize pool is huge!
Texas Holdem
Texas Holdem is one of the most popular played formats in poker especially in today's online gambling era. In Texas Holdem, the best five-card poker hand, out of seven cards, wins the pot.
By the start of the pre-flop, the players will receive two cards face down, starting from the player on
the left side (small blind) of the dealer button up to the last one in a clockwise motion.
Betting begins on the left side of the big blind player and players will have an option to call the big blind or raise the bet, or even fold their cards. By then, all bets will be placed on the pot to start the first stage.
There are three stages in this Texas Holdem format. But before that, the dealer must burn a card every time before going to the stage.
The Flop
A series of 3 cards are to be placed by the dealer face up.
But before the dealer will put the 3 cards, he/she must burn a card first.
After the flop is put down by the dealer, the player on the left side of the dealer button (which is the one called the small blind) has the option to call, fold the cards, or raise the blinds. The same will happen with the other players in a clockwise motion.
All bets after that will then be added to the pot again to start the next stage.
The Turn
After betting on the flop, the dealer will burn another card and put down an additional single card facing up during this stage.
By this time, players can see 4 cards on the table placed by the dealer and can start with the options of folding, calling, or raising again like the flop stage and move in a clockwise motion.
But on this round, players have the option to just check aside from calling and raising if nobody raises before you. All bets again will be added to the pot after the stage.
The River
The dealer will burn a card and place the last card on the table. By this time, players can now see 5 cards facing up and has the same option of action as the first and second stage.
Players' bets will then be put on the pot by the dealer. The remaining players who still have their facedown cards will then show their cards to compare who has the best 5-card poker hand to determine the winner of the pot.
If the two highest card players got tied, the pot will be split between them.
Quick Guide
Take note that some players like to raise or go all-in during the starting round despite not seeing the flop. And every time a player raises, the players should call or re-raise the bet if they want to continue to play with their hands or to just play some mind games with their competitor.
But if the player feels like his/her hand is not playable or if you can't bluff through it, then you could just fold since you can't check if there is someone who raised or all-in.
No-Limit & Pot-Limit
No-Limit
With No-Limit, players can bet or raise any amount to and including their whole stack of chips.
Pot-Limit
Bet or raise by any amount up to or including the size of the pot. The pot here is the limit of the bet or raise, hence the name.
Omaha Hi
The rules of Omaha poker are nearly identical to Texas Holdem poker. The winner will be determined with the best five-card poker hand.
The only difference between Texas Holdem and Omaha Poker is that in Omaha, players will get 4 facedown cards instead of 2 and could only use 2 of the 4 cards to get their best five-hand poker card. Therefore in Omaha, players have the option to choose the best two from the 4 cards.
Identical hand card value with two players will be evenly split by 50/50.
Omaha Hi/Lo
In Omaha Hi-Lo poker, any cards below 8 are considered low cards like from 7 up to Ace (with the ace being 1). The only difference between Omaha and Omaha Hi/Lo is that in Omaha Hi/Lo, there are two possibilities of winning.
With the remaining players, the player with the lowest 5-card hand wins 50% of the pot and the other player with the highest 5-card hand wins the other 50% of the pot. But if there's no low hand that got qualified, then the highest hand will get all of the pot.
888 Poker App
If you enjoy poker and have a smartphone, online poker New Jersey newest platform, Mobile Poker, is an excellent choice. As more people own smartphones and tablets, they prefer to play real money poker on these devices instead of on a computer.
New Jersey online poker has responded by providing apps on both iOS and Android devices, demonstrating that a product can be technologically advanced while also being simple to use. All you will do is download the most recent 888 casino poker app for your iPad, iPhone, or Android device and follow the simple instructions.
Players of mobile poker 888 Poker will find the apps to be comparable to the desktop version, but lacking in many extra features. You can't, for example, gather information over other players, search for and find other players, or watch hand replays. You will also be unable to use third-party software to gather additional data while playing. The good news is that if you are a beginner or simply want to play casually, you won't have to worry about sharks hoping to take advantage of you on this premises. The same thing corresponds to 888 poker PA.
Secure Payment and Withdrawal Methods
888 Poker USA has fast and secure payment and withdrawal methods for an online gambling site.
Here are the ways that players can deposit but without withdrawals:
VISA credit cards and debit cards
MasterCard
Discover
Online Banking Transfer
PayNearMe
And below here is the list of methods that can do both deposit and withdrawals:
Bank Transfer (ACH)
PayPal
Play+
The methods mentioned above are the fastest and easiest way for you to deposit money for you to be able to play cash games and to withdraw your winnings from 888 poker network.
Legalization of Online Gambling in New Jersey
New Jersey has become the second state in the country to legalize casino gambling in the year 1976. Citizens approved as part of their rare mechanism of urban development in the City of Atlantic.
But Online Poker and Casino games have been legalized by the state in 2013 and is now the massive market for internet gaming in the United States.
Is 888 Poker Legit?
New Jersey Division of Gaming Enforcement licensed and regulated 888 poker US. They have been granted permission to offer fair and secure gaming services to the players under the official Permit Number: NJIGP 13-006.
Being approved by the New Jersey Division of Gaming Enforcement means that 888 Poker US can offer their services to the players, for them to be able to deposit in 888 poker NJ online, play, and cash out with trust from the 888 Poker online.
Can I play 888 Poker in the US?
Yes, you can play! But provided that you are 21 yrs old and above, and is physically located in the state of New Jersey.
That means that even if you are not a resident of the state of New Jersey, as long as you are 21 yrs old and above, and is physically located in New Jersey, then you can definitely play the 888 Poker NJ App without a problem especially the real money cash games.
Can you Play Online Poker in NJ?
Of course, you can! New Jersey legalized online gambling on February 26, 2013. The Online Gambling Bill was signed into law by Governor Chris Christie.
The bill governs the online poker and online casino operations of the state of New Jersey. As a matter of fact, DGE provides licenses and oversights to the online gambling operators authorized by law in New Jersey.
Basically, the law permits the establishment to provide division-tested online casino and poker games to users or players who are physically present in the state and at the legal age of 21 and above. It is also possible for you to get an 888poker NJ download on both Android and iOS devices.
Who owns 888?
Additionally, 888 Holding PLC controls the well-known 888.com brand. They also run the well-known online gaming identities of 888casino, 888sport, and 888poker. You can locate 888sports's headquarters in Gibraltar.
Customer Help Support
If ever you need 888 Poker NJ Customer Support regarding anything with 888 Poker NJ, they are always ready and happy to serve you 24/7. You could always rely on their poker 888 online help Support Team.
But if you want assistance from them directly through words you could always call them on 888 poker NJ phone number anytime. Below is the 888 poker.com network number.
888 Poker NJ Phone Number
Call 888 Poker NJ Customer Support now at 1-855-218-6234. Be assured that the people who will talk to you or cater to your 888 poker net questions or clarifications are professionals in their own field and knows what exactly there are doing, and are also willing to help with pleasing personality.