Among the most popular websites for New Jersey residents to wager on sports is the Borgata Sportsbook App. Of course, Borgata is not just one of the most popular casinos in the United States. Still, it was also the first in Atlantic City's betting capital to provide a mobile sportsbook with real-time betting.
Borgata Sportsbook became the fifteenth New Jersey-based online sportsbook to become live. As a result, it's possible to gamble on various sports in the sportsbook. You may bet on anything from football and baseball to basketball and horse racing.
Borgata Online Sportsbook Bonus Code 2023
Online Sportsbook
Borgata Sportsbook
Borgata NJ Bonus Code
CWbet4080
Welcome Bonus Offer
$100 in free bets with $20 Bet
Borgata Sports Bets Offered
NFL, MLB, NBA, Golf, NHL, MMA
Platforms
Desktop/iOS/Android
Last Updated
December 2023
Features of the Borgata Sports App
Let's look at what the Borgata Sportsbook App offers users who download it. And our experienced Borgata review crew considers this the most significant component.
It is important to note that the Borgata sportsbook application has the same features as its website. All of the various betting markets are available for in-play wagering. It's effortless to use, and collecting all the extra incentives is also enabled. In addition, the Borgata promo coupon application is a breeze.
If you want to gamble on sports, you may do it any day or night. The company's customer service team will help you if you have any questions or concerns. However, there are various options to select from when depositing and withdrawing money.
Downloading the Borgata Sports App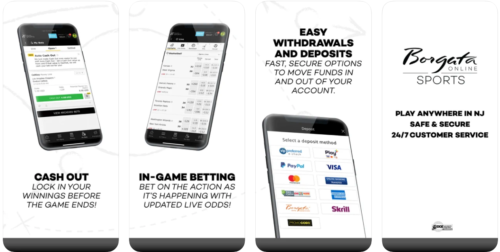 Downloading the app is the first step if you wish to use it. Fortunately, it's compatible with both iOS and Android devices. As a result, it's effortless to download Borgata App and install it, as with online sportsbooks applications.
Here is a step-by-step approach to Borgata Sportsbook app download for iOS devices. The sportsbook app for Android may be downloaded and installed using the instructions below.
How to Download and Install the Borgata App for iOS Devices
Follow these steps to get the Borgata NJ Sportsbook app on your iPhone or iPad.
First, to get the app on your iOS device, click on the special links in this article or search for it in the App Store.
Unfortunately, you can only download the Borgata app in New Jersey, so double-check your location before downloading.
To begin the download, click on "Get." After the software has been downloaded successfully, the installation process begins immediately.
If you're a new client, you should sign up for an account and use any available Borgata Promo Code codes.
With their login credentials, existing clients may access the site.
How to Install and Download the Borgata Sportsbook Android App
If you have an Android-powered mobile device, downloading the Borgata App is almost the same. So this is how it works.
Your home state of New Jersey is required. The Borgata NJ app won't be available if you don't meet these requirements.
Whenever you visit the Borgata NJ Sportsbook website, look for the "Download" button and click on it there.
Ensure that "Accept unknown sources" is enabled in your phone's settings.
Register for an account if you don't have one. Use our Borgata Promo Code CWbet4080 to qualify for the bonuses.
Borgata Sportsbook Login credentials are required for players enrolled on the game's desktop version.
Bonuses at Borgata Betting
As part of our Borgata review, we looked at the bonuses they offer to clients who are qualified and the Borgata sportsbook app. Existing and new clients of all online sportsbooks may take advantage of these establishments' wide range of bonuses. Nothing about this company is any different.
Anyone who decides to register an account will always be greeted with a bonus. Check out the website to discover how you can claim this extra offer. Also, you can use our Borgata Promo Code when you sign up. Finally, it's a given that you can use your Borgata sportsbook application to get your welcome bonus.
Borgata NJ Casino Online
Most online sportsbooks have a casino area, and it's unusual to find one that doesn't. (It's possible, but not often.) So even though we were already aware of Borgata Casino's sportsbook, we were blown away by this brand's offerings. We also had to investigate the Borgata Casino app during our sportsbook study.
Apps for both Android and iOS smartphones are available for the Borgata Casino mobile app. If you're having trouble, you may refer to our guide for installing the sportsbook application for comparable installation instructions.
System Requirements for the Borgata Betting App
You must do these several things before properly installing the Borgata app. The first step is to ensure that your mobile device meets the system requirements. Unless your operating system is up to date, you will not be able to install the program, and it will not function properly.
You'll also want to ensure that location is enabled in your options. For example, you must be geographically located in New Jersey to use the Borgata application.
Borgata Sportsbook Mobile App FAQs
Does Borgata have an online sportsbook?
The Atlantic City Marina District's Las Vegas-style casino, Borgata, has an online sportsbook called Borgata Sports. In May, the 15th New Jersey-based online sportsbook, Borgata Sportsbook NJ, went operational.
Are Borgata sports legit?
It is only possible to wager on sports at the Borgata sportsbook in New Jersey. As a result, the New Jersey Division of Gaming Enforcement regards them as reliable since they must follow its standards.
Does sportsbook com have an app?
Yes. Borgata has an app for sports wagering. You can download the app using your android and iOS devices. In addition, once you complete the registration process in the app, you'll enjoy new players' rewards and bonuses.