Last year, DraftKings Sportsbook launched a new line of self-branded. DraftKings Sportsbook Gift Card is designed to assist customers in funding their accounts safely and faster. DraftKings gift cards offer bettors with cash the benefits of privacy and simplicity, but that's not all. The DraftKings prepaid card is the most convenient method for customers to generate cryptocurrency into online gambling funds.
DraftKings has become the first online gambling business to provide a retail gift card for $25 and $50. Users can use the card credit to start competing in fantasy contests or place wagers through the DraftKings app, which is presently available in nine states.
Please configure your Webix Feed Generator.
DraftKings Gift Card Overview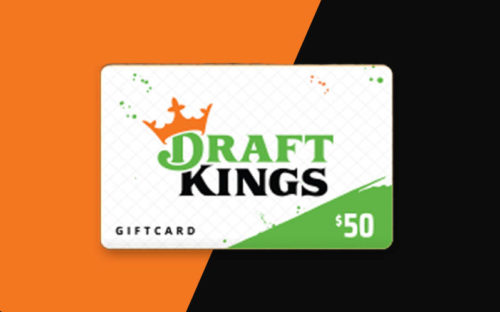 Browse the DraftKings gift card website to learn more about how they function, where and how to buy DraftKings gift cards, and exactly how to receive a DraftKings gift card online after acquisition. The simplest way to begin is to locate a nearby retailer and purchase prepaid cards with cash in installments of $25 or $50. 
Users can purchase DraftKings gift cards to finance their sports wagering, daily fantasy, and casino logins. All following local laws govern which gaming types are permitted in each state.
Users who purchase a DraftKings sportsbook gift card in person can redeem it by scratching off the back label to reveal the payment details. Users can then log in to their DraftKings accounts, go to the cashier, choose what card their deposit process is, and enter the card number and expiry date. CVV is found on the back of each gift card.
Bitcoin and Ethereum Deposits at DraftKings
PC Game Supply connects users to more significant gift card deposit portions and cryptocurrency deposits. Bettors can purchase DraftKings gift cards in denominations ranging from $5 to $250 at PC Game Supply. Pay with PayPal or cryptocurrency to get the e-mail delivery of their online gift cards.
To begin, go to the PC Game Supply DraftKings sales page and select an increment and a means of payment: 
$5

$10

$25

$50

$100

$150

$250
PayPal, Bitcoin, and Ethereum are all accepted at PC Game Supply. 
To complete the purchase, users who choose PayPal must have their bank account connected to their PayPal account. Those who choose Bitcoin or Ethereum must possess a bankrolled cryptocurrency wallet. For it to send the cryptocurrency to an address. 
After completing the purchase, most participants will receive their digital gift cards quickly via e-mail. Players can then redeem the digital redemption code by signing in to DraftKings, visiting the cashier, and selecting a credit or debit card as their deposit procedure.
Please configure your Webix Feed Generator.
Where Can I Purchase DraftKings Gift Cards?
You've probably seen various gift cards for multiple brands in retail stores. To attract customers, retailers form partnerships with financial services companies, including InComm Payments. Players can also buy an InComm card and load money into their gaming account to top it up. DraftKings gift cards will then be able to be purchased at places such as:
7-Eleven

Dollar General

Sheetz

Speedway
Although DraftKings sportsbook has been the first to strike a deal of this kind, many brands now accept prepaid cards as a deposit method. Using a prepaid card at DraftKings has already been possible with Game On card payments.
The gift cards will be readily available for purchase nationwide. Still, the digital products offered by DraftKings online will depend on local regulations. Anyone in New York, for example, who has access to the NJ sports betting market can utilize the cards on online sportsbooks and the DraftKings casino.
If you cannot locate a location where you can obtain the DraftKings gift card, you could start looking for the 'DraftKings sportsbook gift card near me to see if there is a suitable option. As previously stated, among several other fantasy sports gifts, a DraftKings gift card might well make an excellent holiday present. DraftKings is available on several NFL betting apps. In addition, new buyers can take advantage of welcome bonuses such as free bets.
How Gift Cards Affect Responsible Gambling
Every jurisdiction with a governed online betting industry offers programs for people with gambling problems, like self-exclusion lists. The retailers who stock and sell gift cards do not have these programs to prevent them from being sold to anyone on a list; however, DraftKings handles this themselves.
DraftKings has been clear that this gift card is merely another mode of payment and that all of the usual controls will apply.
The availability of a gift card is welcome news for bettors who prefer cash to digital banking methods. Moreover, with the rules and regulations governing responsible gambling, a gift card is an additional option for converting money into funds for entertainment.
Why Should You Use Gift Cards Instead of Credit/Debit Cards?
One significant advantage of playing with gift cards is that you do not need to enter your credit card information or other vital details when playing online. In addition, it ensures that if your mobile lands in the wrong hands, they will only have access to the gift card amount.
They're also excellent for assisting you in overseeing your bankroll and avoiding developing a gambling problem. Gift cards have fixed amounts; if you spend more than the limit, you must stop playing until you buy another. The time it takes to buy another card may be all you need to step away from excessive gambling.
Please configure your Webix Feed Generator.
DraftKings Sportsbook Gift Card FAQs
How long does DraftKings take to function gift card deposits?
DraftKings accepts both physical and virtual gift cards almost instantly. Users who purchase DraftKings gift cards in person can instantly redeem them online and begin placing bets within minutes.
Can I purchase multiple gift cards to make more extensive deposits?
Yes. Users who want to deposit more than the $50 in-person or $250 online buying limit can purchase multiple gift cards. Each retailer, however, may restrict the number of gift cards sold to individual customers.
What can I do with my DraftKings gift card?
A DraftKings gift card's primary function is to allow customers to fund their DraftKings sportsbook (or DFS) accounts.