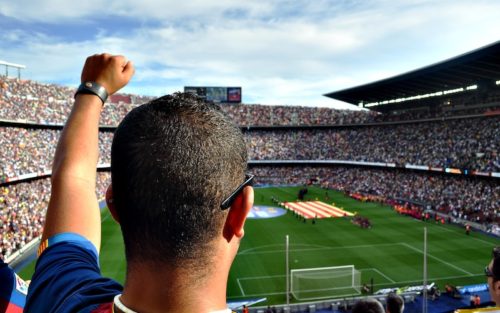 Our How to Make Money Betting on Sports and Advice pages are for you, whether you're new to sports betting or a seasoned pro. Most individuals who wish to bet on sports are already fans. It's not unknown for a bettor to put some wagers, particularly during big games such as the Super Bowl or the NCAA basketball Final Four. Still, for the vast majority part sports bettors are sports fans seeking to make a little extra cash by using their knowledge of a game or a game's players.
Being a fan of a specific sport, a team, a college, or a professional squad is a prerequisite for placing sports bets. Sports betting allows a fan to participate in the game's operation, with more than just self-respect at stake.
Up to $1,500 Back in Bonus Bets
10 x $100 Second Chance Bets
2nd Chance Free Bet Up To $500
Your First Bet Is On Caesars Up To $1,000
Strategies and Advice on How to Make Money Betting on Sports
Even chance games are mathematical. You comprehend the game and, therefore, can gain an advantage if you know the math behind it.
The math is much more challenging in sports betting. Based on your favorite sport, consider bye weeks, underdogs, quarterback ratings, and injuries with the same zeal that other enthusiasts reserve for fancy scowls.
In the sections below, we explain several strategies for increasing your chances of making money to bet on sports.
Quality trumps Quantity
There are 16 games to wager on an average NFL week. Every week, many gamblers will place some wager, whether it is on the spread or the total. Some bettors may do the same if they see a busy MLB weekend or an NBA or NHL action.
While this may do the work for a few weeks, it is a losing strategy. Remember that the more wagers you place, the more money the sportsbooks take in commission.
Avoid Large Parlays
Bettors are drawn to parlays due to the prominent potentially large payouts if their wager wins. A traditional two-parlay pays out at 2.6:1 odds. If you are good enough to hit an eight-team parlay, you could win 150 times your original wager.
Bettors will occasionally read a story regarding an individual who transformed a $10 bet into a five- or six-figure payout. Such stories are no more than raffle tickets. People were not overly optimistic about winning the lottery the last time I checked.
Make the Public Disappear
Seasoned bettors have all heard several variabilities of the phrase "the house always wins." First, it implies that gambling, including sports betting, frequently results in gamblers losing money. As a result, casinos and sportsbooks thrive because they rarely lose.
A sportsbook would take a big hit if gamblers betted a large percentage of the money on one side of a game, and that side ended up being the right side. If this occurred, sportsbooks would have to pay more cash than they had gathered from losing bets.
Because such occurrences are uncommon, it is often a good idea to "fade the public" on frequent bet games. It is particularly true if the oddsmakers need not adjust the line because they are afraid of being exposed.
Look for the Best Brands
Many players have a "go-to" sportsbook with which they are familiar. However, these same people may need to be made aware that those other sportsbooks may have better odds on the games they are betting on.
A half-point difference in a line can indeed be significant in many sports. For example, if one bets on a team's ability to cover an 8.5-point spread, that team must win by at least nine points. However, if the exact team is given an eight-point spread, they are much less vulnerable since winning by eight is no longer looked like a loss. So instead, that oddsmaker would "push" their bet and receive a refund.
There is no damage in account opening at multiple sportsbooks, given how secure they are. If you do, you will be given the luxury of comparing lines across multiple sites and taking advantage of the finest line each time.
Benefit from Live Betting
While pre-game wagering is more common, in-game betting is frequently more profitable. In addition, sportsbooks are increasingly using algorithms to calculate live spreads. As a result, the "flow of the game" is not as important as one should think.
Conduct your Research
The more time one spends researching before betting, the more probably they will be effective. There are numerous methods for conducting adequate research. For example, one can look up weather forecasts or stay up to date on injury news. Players must also consider how a team is currently playing or previous performances against an opponent.
Each of these examples is an example of research that does not require extensive digging. However, suppose you have to research players or teams extensively and feel you are new to the game. Then, you should avoid betting on those games. Instead, stick to what you understand instead of convincing yourself that you might successfully gamble on sports you don't understand.