Without a shadow of a doubt, Parlay has become shorthand for sports betting. One major explanation for this is that online bookmakers often post about their clients' six-figure parlay winnings on their social media pages. So there's no wonder why people often ask how to parlay on DraftKings sportsbook.
These mega parlay wagers naturally fail to win more often than they succeed. But it hasn't prevented casual gamblers from taking advantage of parlays. Whether to earn a fortune or just to amp up the excitement of an otherwise boring regular-season game.
In this article, we will address all of your concerns regarding parlay wagering. Of course, focus on DraftKings, one of the largest online sportsbooks in North America, to place your parlay bets.
DraftKings Sportsbook Parlay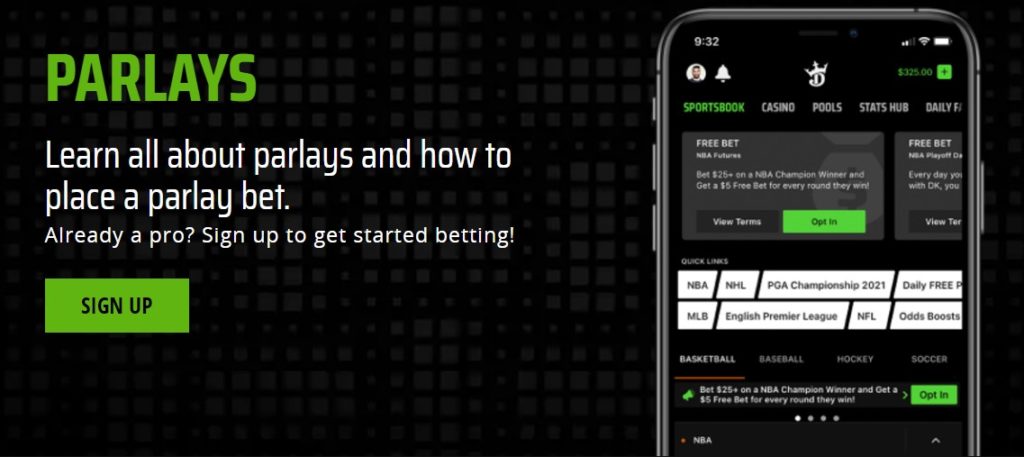 A parlay wager is one that is contingent on more than one result happening. If you place a DraftKings parlay bet, you should correctly predict each of the individual outcomes for it to pay off. Parlay odds are calculated by multiplying the probabilities of each selection by the total number of selections in the Parlay.
Parlaying -150 odds on New England with +200 odds on New York would provide +400 odds. If both New England and New York win, your bet of $20 will return an impressive $80.
How To Do Parlay on DraftKings Sportsbook App
Now let's talk about how to do Parlay on DraftKings website or mobile app.
First, if you don't have one already, sign up to enjoy the SGP feature DraftKings. It just only takes a few seconds to complete the straightforward procedure. After signing up, you may fund your account with a wire transfer or a visit to the brick-and-mortar location. It's important to remember that some jurisdictions only allow in-person deposits, while others accept both mobile and in-person options.
Before depositing money into a sports betting account and enjoying DraftKings same game parlay, research your state's regulations. So if you want to place a wager on same game parlay picks, you may do so after logging in and financing your account.
Now, begin constructing your free picks and parlay by including two or more events and/or wagering options on your betting slip. You will be notified if any of your SGP betting choices are judged inappropriate. You can't finish the Parlay unless those parts are eliminated. Keep in mind that you may choose to either reduce the Parlay by eliminating faulty options or replace them with new ones according to the DraftKings SGP rules. Also, read the DraftKings same game parlay rules to know more.
Moreover
There is a limit on the number of bets that may be included in the same game parlay at most sportsbooks (usually 10 to 12). DraftKings allows a maximum of 10 games, as an example in a NBA same game parlay. When you've finished filling out your singles and trebles sections of the betting slip, you may go to the "Parlay" section.
At last, choose a wager. Different maximum wagers apply for different parlay structures and different sports like MLB same game parlay. If your bet is too high, DraftKings will let you know and give you the option to lower it. Always keep in mind that you may win significant betting parlays without putting out a lot of money. DraftKings will figure out how much you can win when you put down a bet.
Click "Place Bet" after you've verified the Parlay. For example, when you get the approval confirmation from your NFL same game parlay wager, you're good to go.
Payouts in a Parlay Bet at DraftKings Sportsbook
DraftKings offers greater payouts for the best same game parlay wagers than for the same wagers placed on individual games.
The preceding scenario warrants additional examination, so let's imagine you want to wager $20 over both games. You can wager $10 on the Chargers -4.5 and the Titans -10 on NFL DraftKings.
The vig (or percentage of your wager) that the DraftKings betting site takes for itself on each of these single-game NFL bets is -110. For this case, if you placed two separate bets of $10 each and won both, you would get $38.20. If, however, you combined them into a single $20 parlay bet, DraftKings would pay you $72.96.
To sum up, if you bet $20 on two games and win, the return is $34.76 greater if you wager on the Parlay than if you spent $20 on two individual bets on identical games.
As the number of games in parlay increases, so do the odds. The chances of a parlay bet on the NFL DraftKings site climb from +265 to +608 when a third game is added. Needless to say, the odds of winning a parlay wager increase as more teams are included.
DraftKings Sportsbook Parlay FAQs
What is a same game parlay?
Game Parlays, also known as same-game parlays and single-game parlays, enable gamblers to place several wagers on a single game. No of the score or stakes, this is a quick and easy approach to increase the excitement and significance of every play.
Can you do parlays on DraftKings?
Yes. At DraftKings Sportsbook, you may combine not only money lines and spreads but also futures, prop bets, and more, for a massive parlay. Check out the best same game parlay today at DraftKings.
How do parlay bets work on DraftKings?
A "Parlay" wager is one that is contingent on more than one result happening. If you place a Parlay bet, you must correctly predict each of the individual outcomes for it to pay off. Parlay odds are calculated by multiplying the probabilities of each selection by the total number of selections in the Parlay.
How do you bet on a parlay?
In sports gambling, a parlay is when a gambler places numerous bets (often two or more) that all have the same outcome. All parlay bets are considered losers if one of the underlying wagers fails. But, the bettor collects a larger sum of money if every bet succeeds.