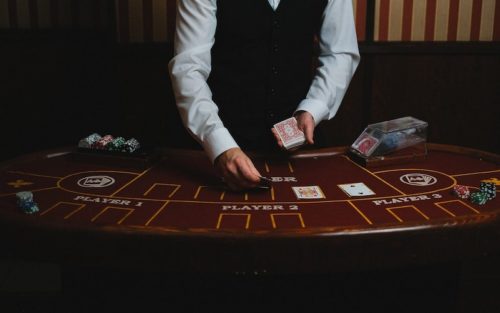 Poker players get a chance to earn big money this summer in Las Vegas, New Jersey.
BetMGM and Aria have partnered to provide players an unparalleled opportunity to partake in the BetMGM Poker Championship live event this summer in Las Vegas.
For the entire month of May, New Jersey online poker players can join daily mega-qualifiers for as little as $2 to win a $6,500 Las Vegas Poker Package.
"It's great to be able to bring BetMGM players again to Las Vegas during one of poker's most thrilling times of the year," said Luke Staudenmaier, BetMGM's director of poker, in a statement.

"Aria is delivering a Championship event for the second year in a row, and we are pleased to continue expanding our relationship with MGM Resorts while bringing BetMGM online players to the finest poker rooms in the United States."
Please configure your Webix Feed Generator.
How to Qualify Through NJ Poker
Individuals living inside the confines of New Jersey can participate in the series by qualifying using three different poker skins.
Players in New Jersey can compete for the $6,500 package prize throughout the month.
The following players can be found on all three sites:
Details on the $6,500 Poker Prize Package
Players who win a package will receive a $3,500 entrance to the BetMGM Poker $2 million assured championship, which will be hosted at Aria Resort & Casino in Las Vegas from June 7-13. In addition, an $800 Mystery Bounty tournament admission for June 8, a six-night accommodation at Aria, an MGM online casino NJ swag bag, and travel expenses are also included.
"Partnering with BetMGM for yet another summer championship is an incredible chance for us to provide poker players a one-of-a-kind experience," said Sean McCormack, MGM Resorts' director of poker strategy.

"ARIA has more than doubled the guarantee amount from last year to $2 million, giving competitors a chance to win one of our industry's top prize pools."
Connect into your BetMGM Poker account and signup for qualification tournaments using cash or Tournament Dollars. To be qualified, you should be 21 years of age or more and reside in New Jersey.
BetMGM Poker has Weekly Online Qualifiers Accessible
BetMGM will hold daily satellites to gain entry into their weekly Sunday online $600 qualification events. These events will directly award winners with a bundle.
"BetMGM is excited to provide online players with a live experience in Las Vegas this summer," stated Will O'Connor, a BetMGM Poker spokesperson. "It allows poker players to enter the Aria Championship for as little as $2."
These $600 qualifiers take place every Sunday in May, and they include the following:
Sunday, May 21: GTD 5 Packages

Sunday, May 28: GTD 10 Packages
The Aria poker packages are non-refundable, non-transferable, and non-negotiable. New Aria housing will not be paid, but travel expenses ($500) will be reimbursed to the player's account immediately.
Get a Live Seat at the Borgata
Live competitions to win a package will be available for those who like the brick-and-mortar feel.
Borgata Casino has arranged for five chances to win a Vegas Package worth $6,500, which will be granted on-site at the casino in Atlantic City over five consecutive days. The offer will take place on the following dates at the end of May:
Monday, May 22: 6 p.m., $50 + $10 (1 in 5)
Qualifier for the Two Shot Turbo Step

Win a week's access to both-step tournaments.
Tuesday, May 23: 3 p.m., $70 + $20 (1 in 5)
Win a ticket to the event on Wednesday.
Wednesday, May 24: 6 p.m., $300 + $50 (1 in 20)
Win a $6,000 Vegas vacation!

Five guaranteed packages
Thursday, May 25: 3 p.m., $135 + $25 (1 in 5)
Win a ticket to the event on Friday.
Friday, May 26: 6 p.m., $600 + $60 (1 in 10)
Win a $6,000 Vegas vacation!

Ten guaranteed packages
Reviewing the 2022 BetMGM Championship
Players gained spots in the major tournament last year in the maiden edition. Benji Felson, a New Jersey resident, was among those who qualified for the 2022 competition.
Felson's spot in the championship in Las Vegas was ensured by his participation in a $500 online competition, which he won. The tournament included 343 entries, 68 of which were people who, like Felson, qualified online. Felson eventually finished fifth in the competition, collecting a prize of $51,587.
Felson was somewhat astonished during an interview with BetMGM following his win and afterward receipt of a considerable quantity of money.
"Everything was great here, and hopefully, I'll be back," he remarked.
Ultimately, New York's Joey Weissman won the championship and gained $224,236 for his efforts. The organizers are so confident in their goals this year that they increased the guaranteed prize pool to $2 million.