Looking for a way to be entertained in this quarantine in a fun, popular, and exciting way? Well, you are in luck! Join the rise of esports starting today since most of today's people play video games. Surely there's someone you know or close to you who is indulged in a game or two.
What is Esports?
Video games being popular and competitive made the rise of esports. The first-ever esports event happened way back in 1980 with Space Invaders, hosted by Atari. It attracted more than 10,000 participants and was won by Rebecca Heineman.
Now, what is esports? Esports is a form of competition using video games. It is an organized single-player or multiplayer video game competition that is being played by professionals and amateurs alike.
So then, why are we talking about esports in CasinoWatchNJ? Esports is now part of online betting especially here in New Jersey and is one of the popular scenes to play online gambling in the world. Here at CasinoWatchNJ, we will give you a summary of the rise of esports online betting.
When Did Esports Become Popular?
Esports started to be popular way back in the early 1980s with the Space Invaders tournament. Then followed by the 1998s StarCraft: Brood War tournament. By the early 2000s, Esports steamrolled through the gaming industry with the debut of tournament hosts, the World Cyber Games (WCG), and the Electronic Sports World Cup (ESWC).
This was then followed by Major League Gaming (MLG) and is widely known as the most prominent esports host in the world today. By 2019, prize pools skyrocketed into 64.33 million U.S. dollars by Dota 2 The International and Fortnite World Cup alone.
Biggest Prizepool in Esports
The most recent largest prize pool in an esports tournament is The International Dota 2 Championships by Valve which was held in Shanghai in August 2019 with an extravagant total prize pool of 33.34 million U.S. dollars. Topping their very own largest prize pool which is a total prize pool of 25 million U.S. dollars from The International 2018.
This shows that the Esports Industry is so large that it is also being expected to grow rapidly in these upcoming years. Especially in 2023 which is expected to reach global market revenue of 1.6 billion U.S. dollars.
Fun fact, OG Esports is the first team in the history of The International Dota 2 Championships to win two times and also to be back-to-back (2018 & 2019) champions.
Earnings by an Esports Team
When it comes to teams, we have to look at Dota 2's The International again. Because the top 100 earning athletes around the globe are being dominated by Dota 2 players with a total of 68 out of 100. And also the top 10 earners are all Dota 2 players from Team OG Esports (and former players), Team Nigma (former players of Team Liquid from The International 6 Champion Squad).
An esports team mostly gets its earnings from sponsorships. While the rest of its earnings are being divided equally by media rights, publisher fees, merchandising, and advertising.
An example of a team having a great major sponsor is OG Esports, being an official partner of Red Bull energy drink and SteelSeries, a Danish manufacturer of gaming peripherals and accessories.
Top 10 Esports Individual Earner
All of the top 10 esports individual earners are professional players from the game, Dota 2, of Valve Corporation.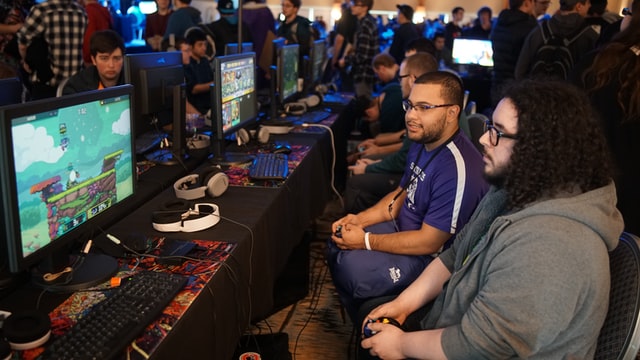 Johan"N0tail" Sundstein
Total Earnings – $6,969,737.80
Jesse "JerAx" Vainikka
Total Earnings – $6,470,548.78
Anathan "ana" Pham
Total Earnings – $6,000,411.96
S

é

bastien "Ceb" Debs
Total Earnings – $5,559,712.41
Topias "Topson" Taavitsainen
Total Earnings – $5,476,317.57
Kuro "KuroKy" Takhasomi
Total Earnings – $5,198,604.15
Amer "Miracle-" Al-Barkawi
Total Earnings – $4,801,541.68
Ivan "MinD_ContRoL" Ivanov
Total Earnings – $4,582,616.16
Maroun "GH" Merhej
Total Earnings – $4,196,910.69
Lasse "Matumbaman" Urpalainen
Total Earnings – $3,765,369.04
Top 10 Esports Team Earner
Team Liquid
OG
Evil Geniuses
Fnatic
Virtus.pro
Newbee
Vici Gaming
Team Secret
Invictus Gaming
Natus Vincere
List of Popular Esports Games
League of Legends
Dota 2
CS:GO (Counter-Strike: Global Offensive)
Call of Duty: Modern Warfare
Rainbow Six Siege
Online Gambling in Esports
You could see that there is huge money involved in esports. Now, it is not surprising that online casinos took noticed and started to incorporate esports in the online gambling platform and joined the rise of esports.
Although most of the legal NJ casinos are still not offering any esports events, either local or international, here is a list of the following sites that are regulated in online gambling in the state of New Jersey.
Most sports betting companies wherein a dire state because of the global pandemic shutting down or putting traditional sports on hold. So most of the betting companies and traditional sports bettors themselves aligned to esports.
Now that the Bi-partisan bill A637 has made its way into the Senate which New Jersey lawmakers will take advantage of it to make final voting to expand the existing online gambling laws. With the rise of esports with its market, surely this would be a great impact on the online gambling industry and will also become a big revenue for the state of New Jersey.
Three Major Esports & Video Gaming Streaming Platform
Streaming your game live or watching your favorite streamer or tournament is what most gamers do in 2020 especially during the quarantine. Huge streamers earn a lot of money from subscriptions, donations, and by selling their merch to their viewers. While not all are blessed to be a huge and successful streamer, most streamers basically just stream because they want to despite no one is watching their streams while gaming. But hey, you'll get there someday so keep doing you.
Esports tournaments are being broadcasted on different platforms for viewers around the world to watch, this is also the reason for the rise of esports around the world. Below are three major esports and video gaming streaming platforms in the world.
Twitch

Twitch is the world's leading streaming platform, especially for gaming and esports enthusiasts. Accounting 43% of all video traffic in the world more than anybody else, including Youtube. It was known before as Justin.tv way back in 2011 and is now a subsidiary of Amazon.com. They even have their very own Esports tab which is solely for streams on video game live streaming like broadcasts of esports tournaments.
Youtube Studio
Youtube Studio for esports alone is not that big compared to Twitch but it is there, most of its content creators earn revenue from their VODs.
Facebook Gaming
While Facebook Gaming is new to the streaming industry, they are known as the dark horse because of Facebook for having 2.7 billion active users in the quarter of 2020 alone. Imagine if most of those users will be into Facebook Gaming, the amount of money generated by gaming alone will be huge.
Today, esports is becoming a spectator sport, which has numbers to prove it becoming one.
2012 – 124 million esports viewers
2017 – 335 million esports viewers
2019 – 443 million esports viewers
2020 – 495 million esports viewers
You noticed that from 2019 to 2020, it only jumped to a few numbers. Well, that is because of the COVID-19 pandemic because most of the tournaments were canceled or postponed until 2021 like The International 10 since huge tournaments are played in LAN (Local Area Network).
Esports will be in for a long ride and for sure, that this would be bigger in the future.