If you're looking for a great new way to put bets on sporting events online, go no further than Bally Bet Sportsbook NJ. We have every reason to expect Bally Bet to become a staple in every state where it receives a license. Because of the well-known Bally name and, more crucially, the remarkable technology of Bet.Works (also owned by Bally's).
Up to $1,500 Back in Bonus Bets
10 x $100 Second Chance Bets
2nd Chance Free Bet Up To $500
Your First Bet Is On Caesars Up To $1,000
In May 2021, Bally Sportsbook was released to the public in Colorado, followed by the rest of the United States. By its first year's end, the hospitality giant's wagering arm had expanded to Iowa, Virginia, and Indiana. In 2022, we welcomed Arizona and New York to the fold, and we anticipate much more growth in the form of future additions to the list.
Now that Twin River Worldwide Holdings owns it, Bally's is primed to expand rapidly in the United States. As a result, Bally's sports betting website, mobile app, and promos go above and beyond the norm. Read on, and we'll sum it all up for you in this Bally Bet review.
Bally Bet Sportsbook Promo Code 2023
Online Sportsbook
Bally Bet Sportsbook New Jersey
Bally Bet Bonus Code
TBA
Sign-Up Bonus
$100 free bet
Risk Free Bet
Up to $550
Last Updated
September 2023
When you sign up at Bally Bet New Jersey, you'll get a 100% welcome bonus of up to $550 and a $100 Money-Back Guarantee to use in any way you choose. A Bally Bet bonus code is not required to get the signup bonus.
How Does the Bally Bet Promo Code Works?
Here's how to get your hands on that wager and the rest of Bally Bets Online's welcome bonus.
First, to join Bally's Sportsbook, visit their website and choose the "Join Now" option. Next, place your initial deposit and confirm your account. After that, place your Bet with real money. Up to $550 of your losses will be refunded as free bets if you lose at Bally Bet NJ.
After then, you'll have seven days to use the bonus wager before it lapses. Remember that the best odds you can get on this deal are +300. In addition, you cannot stack this offer with any others currently being offered.
After verifying your Bally Bet online sportsbook account, you'll get a $100 Money-Back Guarantee and an electronic notice. This offer's free Bet has the same maximum odds of +300 as the previous one. No early withdrawals from wagers made with this bonus are allowed.
Other Bally's Sportsbook Ongoing Promotions
Bally Bet often runs unique promotions on local sports teams in a few states. If the Colorado Rapids squander a two-goal lead and the wagers lose, for instance, the $25 will be returned. In addition, the operator will give inoculated consumers $5 in free wagers.
Regarding sports wagering incentives, the Bally Bet NJ sportsbook is hard to beat. The sportsbook's accessibility in each state determines whether or not you may take advantage of the different incentives.
Loyalty Awards
Clients may earn loyalty points for both online and offline betting. Free online wagers, meals, souvenirs, and more are some rewards that you may purchase with points.
Odds Booster
Under the 'Specials' menu on Bally Bet, punters may find a variety of enhanced markets, such as highlighted parlays and player props.
Bally's Rewards Program
Bally Bet features not one but two incentive systems, Bally Rewards and Trophy Rewards, in contrast to most other online sportsbooks. You may check your accumulated points by playing at any brick-and-mortar or online at Bally's Rewards login. You may trade your points for free play, money, meals, or swag. In addition, users may earn Trophy Rewards by completing tasks, which can be redeemed for real-world free bets and digital trophies.
Creating an Account with Bally Bet Sportsbook New Jersey
The signup procedure at Bally Bet is similar to any other online sportsbook, so gamblers who have used other sites feel right at home. However, for those who haven't, it should still be relatively simple:
Click one of the Bally's Casino and Sportsbook links on this page on a mobile device or a desktop computer to get started.
From Google Play or the App Store, you will need to download the Bally Bet app and then choose your state.
To register, click on the register button in the upper right-hand corner.
Create an account by entering your active email address, username, and password on the first screen.
Afterwards, you'll be asked to provide details such as your full name, date of birth, phone number, and the last four digits of your SSN.
Your full address is the last thing you need to enter.
Tick the terms and conditions box after answering two security questions.
Bally's Sports Betting requires its users to be at least 21 years old. Those who sign up for the service must also promise not to share their login information with anyone else. Gamers do not need to be residents of the same state as the betting site. But, they must be physically present in a jurisdiction where Bally Bet is authorized to accept legal tender bets.
Bally Sportsbook NJ Betting Markets
Bally's sportsbook is a global leader in sports wagering, with lines and odds on every major professional and collegiate sport. However, the site might benefit from a greater focus on niche markets. The Bally Bet app delivers a good wagering experience overall. However, it lacks the depth of other rivals.
While Bally's Corporation is still relatively new to the US market, the company has said that it intends to increase the variety of wagers available as it grows in popularity. Bally Bet now includes the following sports for consumers to wager on:
Aussie rules
Golf
Motor Sports
Mixed martial arts
Rodeo
Olympics
Soccer
Rugby
Table Tennis
Tennis
Softball
Significant events will have more wagering opportunities open for them. Sports fans in the United States may choose from as many as 70 markets on the Bally Bets Sportsbook. However, the selection for less popular niche sports is somewhat limited.
Other online sportsbooks, including BetMGM and BetRivers, provide more than 300 wagering options on the most famous games for comparison. While Bally Bet Sportsbook NJ still has some work, it offers all the standard betting options (money lines, spreads, totals, in-game wagering, player props, and game props).
Bally Bet Sportsbook App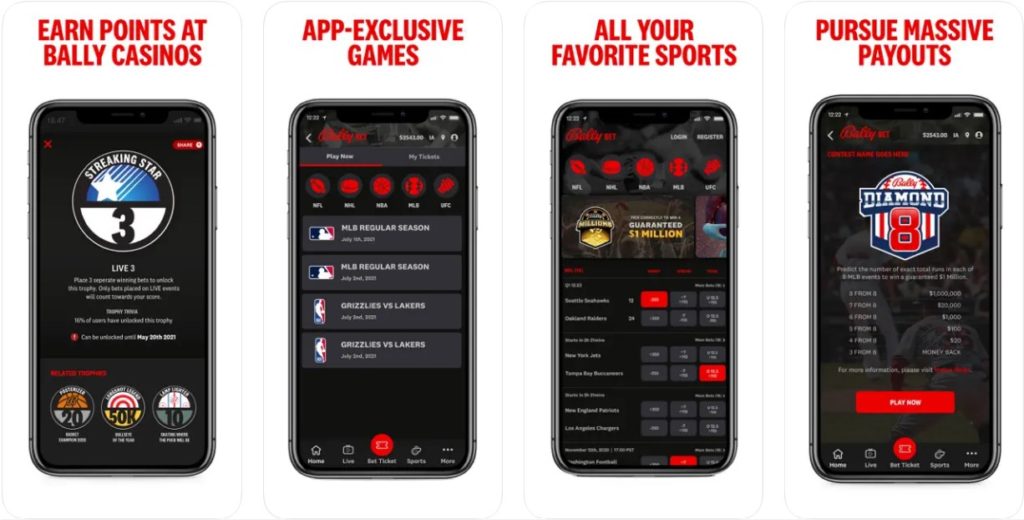 The Bally Bet mobile app is easy to use. Anyone with a mobile device may go to BallyBet.com and download the official app for either iOS or Android.
Gamblers may anticipate a simple layout with easy connections to each sport in the left navigation menu, a list of betting markets in the screen's centre, and further controls in the site's bottom right corner.
Wagering on any market is as easy as clicking the odds and entering a bet. After putting two or more wagers on the betting slip, players may click the parlay button and modify their stake.
The software also allows users to deposit funds and check the status of their bets.
As it now stands, the Bally Bet app does not impress nor dissatisfy. It does its job by displaying odds and taking bets, but it doesn't do much else. But sources at the business believe additional capabilities, such as "integrated social functions," are on the way.
Following the acquisition of Bet.Works in November 2020 for $125 million, Bally now uses its proprietary technology to power its mobile app, Bally Bet NJ. The size of the investment suggests that Bally Bet has ambitious aspirations for the future. And since Bally Bet owns Bet.Works, it has a full say over the product's direction, features, and development as it pertains to the sports betting industry.
Downloading the Bally Bet App
You may download the Bally Bet app on both iOS and Android. So, for example, when Bally's debuts its online sportsbook in New Jersey, you can download it by going to the sportsbook's website on your smartphone and selecting your region.
Next, choose "Download for Android" or "Download on the App Store," based on your mobile device, and continue down the page. If you click it, you'll be sent straight to the app's page in the App Store or Google Play to download it. The installation of the app won't take more than a few seconds, after which you'll be good to go.
Banking at Bally Bet Online Sportsbook
Bally Bet's selection of deposit and withdrawal options may be more limited than that of other rivals but be assured that they are all secure.
Deposit options
Instant Bank Transfer
Play+ Prepaid Card
Credit/Debit Card
Cash at the Cage of Bally's Atlantic City
Withdrawal options
Payout requests are reviewed by Bally Bet and may require up to 48 hours to complete. From that point on, the time it takes to get your money varies on the option you choose.
Play+ Prepaid Card
ACH (e-check)
Cash at the Cage
Customer Service at Bally's Sportsbook
Bally Bet New York has an excellent system in place for customer service. The sportsbook's contact page has a phone number, an email address, and a live chat option. Queries on commonly encountered issues are also available to customers.
Phone: 844 844 3238
Email: [email protected]
Live chat available 24/7
Twitter: @BallyBet
Bally Sportsbook FAQs
What is the Bally Bet Sportsbook bonus code?
You don't need a promo code to be eligible for the bonuses at Bally's. Click one of our exclusive links on this page to automatically qualify for the promotion.
What States is Bally bet legal in?
There are now six states where Bally Bet Sportsbook is legally permitted to operate. These are Bally Bet Indiana, Arizona, Colorado, Iowa, New York, and Virginia. So if you don't happen to live in one of those six states, you still could get to experience Bally Bet shortly.
Is Bally bet live in New Jersey?
There is no Bally Bet Sportsbook NJ yet. This review pertains to the bonuses and promotions that Bally Bet Virginia offers and other states where the company operates.
Is Bally Bet Sportsbook NJ legit?
In states like Iowa, Colorado, Virginia, and Indiana the Bally Bet sportsbook has already been recognized for its reliability and legitimacy. This means it satisfies all standards for safe and fair sports betting set by the relevant gaming regulators in each state.