Before we proceed with the bet365 app download, let's get to know one of the NJ online sportsbook industry players. If you want to enjoy free bet bonuses and other rewards, register using the bet365 NJ bonus code links found on this page.
Android and Apple users may download the bet365 app. In this guide, we'll show you the advantages and features of the app. Of course, we also prepared a guide on how you can download it on your device.
Bet $1, Get $200 In Free Bets
Navigating Through the App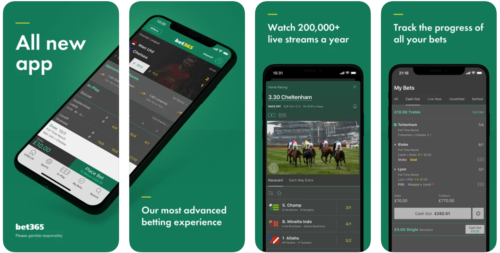 The bet365 app may be familiar if you've used other betting applications. Most other apps provide the spread, over/under, and money line in their game listings. The line for a game is often all that can be seen on the bet365 download app. To view all the bets available, click on a game, and you'll be sent to the betting page. We don't believe it's a massive issue if you have to get accustomed to it a few times.
It's easy to go to the main page of the app (named "Sports") and all the ongoing live games that you may bet on by clicking on the "Sports" button at the bottom. In addition, there is a search bar and a link to see all of your bets if you need assistance locating the events on which you want to wager.
You may access your account by clicking on the person symbol in the upper right corner. You may make deposits or withdrawals, modify your preferences and check your messages, visit the promotional page, or log out of your account.
Placing Bets
Bet365 app users need to choose the best they desire and add it to their wagering slip to make bets. Keep adding wagers to your multi-bet until you're happy with the outcome.
Proceed to the "Risk" section of your bet slip and enter your bet amount in the provided box. If your bet wins, you'll see it at the bottom of your slip and the amount of money you'll get back. Selecting "Place bet" is the last step. Once you've made your wager, there's no turning back on your decision.
The design and experience of the bet365 Sportsbook app are a bit different, as we indicated at the beginning. However, the minor differences aren't a big deal and take just a few minutes to get accustomed to. A newcomer to sports betting may not even be aware of this. To top it all off, the bet365 mobile app is lightning-fast and nimble.
Bet $1, Get $200 In Free Bets
How to Download the bet365 Mobile App for Android
Visit www.nj.bet365.com to register for an account and collect your welcome bonus, then download the app to your mobile device. Navigate to the mobile menu and click Download App. bet365 apk has a pop-up window. Open by pressing the Open button. Then click Install in the new window that appears. Click Install, then Open to begin using the bet365 mobile app for android.
Note: Google Play does not allow genuine gaming or gambling applications in the United States. You must download the bet365 apk straight from the operator's mobile site. If you receive it from bet365 and not some dubious download source, this is entirely usual and safe to do. Google may let the app in the store in the future, so for now, this is the only method to download it on your phone.
How to Download the bet365 NJ App on Your Apple Device
Using your iOS smartphone, you may quickly and easily download the bet365 app on your iPhone or iPad and open iTunes. To get the app, click on the GET button. Then, log in to your new account and begin funding it. You may then place bets on the home screen.
In addition to mobile applications for iPhone and Android devices. These include Huawei, Samsung, Sony, etc. The service provider also offers a mobile website. The app currently only serves the sportsbook, and there's no connectivity to the bet365 casino yet. Due to their partnership with the Hard Rock Casino, bet365 will not be offering online poker.
There is no doubt that bet365's decision to provide a variety of wagering choices and markets with similar lines was a no-brainer. This is a great time to be a fan of the NFL and the NBA since coverage is high. In addition, the book does a great job of covering a wide range of popular sports in the United States, including Darts, Soccer, Rugby, Golf, and more.
bet365 Sportsbook Review
The bet365 Sportsbook has a wide variety of sports to bet on and a wide variety of markets for every one of those sports. In-play betting is one of their strongest suits. Their recurring promotions for current clients indicate that they value providing an excellent user experience to those who return time and time.
There are fewer pre-selected parlays and prop bets than on other competing sites, but this is a minor drawback on an otherwise outstanding service.
Be sure to read our honest evaluation of bet365 to see why it is so well-liked by online bettors throughout the globe.
Bet $1, Get $200 In Free Bets
bet365 Download App FAQs
How do I download my bet365 app?
To begin downloading the bet365 app, go to the website. In your phone's settings, enable the option to accept downloads from untrusted sources. Then, when reloading the mobile website, tap on the "View all Bet365 betting apps" at the bottom of the page.
Is there a bet365 app?
This is the most modern sports betting app from bet365, the most popular online sports betting organization today. The Grand National, Derby, Royal Ascot, and the FA Cup and Champions League Finals are just some of the many events you may wager on during and before the game.
Is the bet365 app free?
The bet365 website offers a wide variety of applications tied to wagering in some form or another. Since they're all free, you can choose one that appeals to you and start winning right away.
Which is the best app, Betway or bet365?
In terms of deposit options and introductory bonuses, Betway has an edge. In contrast, the bet365 download app has more substantial live betting and broadcasting offers. Moreover, unlike Betway, which caters to Indian customers, bet365 caters to people worldwide. However, this doesn't mean that Indian gamers won't enjoy this bet365.