You have a few choices to get in touch with the Caesars Sportsbook NJ Customer Service. At Caesars Sportsbook NJ, you'll see a little bubble symbol in the bottom left corner of your screen while you're signed in. In addition, there is a live chat option available if you click on it. Finally, you may also access the FAQs page by clicking on the question mark symbol in the top right corner.
Even though there aren't a lot of alternatives, the chat feature has always worked effectively, and we've never had to wait long to speak to someone. And the FAQ has a lot of information, so you're likely to get the answers you're searching for.
Your First Bet Is On Caesars Up To $1,000
Caesars Sportsbook Customer Service NJ
You may access the Caesars sportsbook customer service via the assistance tab. This button will include an extensive list of detailed questions and answers under several subjects. A Caesars sportsbook customer service NJ representative is always available if you can't find the solution to your question in the FAQ section. For urgent issues, live chat is available 24 hours a day, seven days a week. In addition, an email address is available to inquire about further information.
The Caesars sportsbook customer service hours are very convenient, especially for bettors who need assistance in the middle of the night.
Promotions at Caesars Sportsbook NJ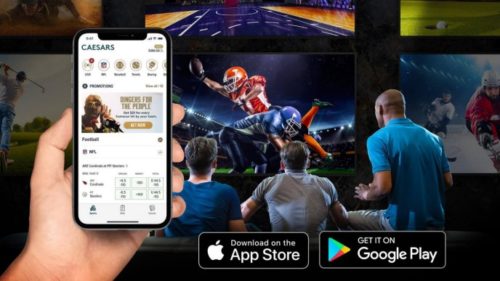 You may track the progress of your money via the mobile app's account area. Bonus money is kept separate from the rest of the budget. You may then use your free bet tokens to settle for a wager you've already added to your slip.
After meeting the wagering requirements, it might take up to two business days for the bonus monies to be deposited into your account. However, Caesars has improved its turnaround time from the previous three business days. Many sportsbooks still demand a three-day waiting period before issuing bonus payments. Still, the Caesars Sportsbook application does so far quicker than its competitors.
Your First Bet Is On Caesars Up To $1,000
Other Promotions for Existing Customer
Most of Caesars Sportsbook's competitors don't provide as many extra incentives as Caesars does. However, the Caesars Sportsbook promos page usually has an extensive list of open deals. The following sections indicate the sports gambling promotions you may expect to find at Caesars if you join.
Prizes & Giveaways: The Caesars Sportsbook app has a variety of thrilling prize drawings and item giveaways. It was recently giving out free NBA jerseys to everyone who purchased one. For every $100 staked on NBA games, participants received a $150 digital gift card to the NBA shop. Customers may also win a trip to the Super Bowl aboard a private aircraft via the company's "Super Bowl Royal Giveaway."
Risk-Free Bets: In the year, Caesars Sportsbook provides a limited number of risk-free wagers. For example, a risk-free same-game parlay on an NBA game may be provided one week, while they might give a risk-free March Madness wager the following week.
Bet and Get: You may exchange free bets for specific bets at Caesars Sportsbook. For example, during the NFL's "Total Pointage" promotion, punters could wager on the final score of a football match and get $1 in free bet credit for each point scored in the final score.
Monday Night Millions: Customers of Caesars Sportsbook may enter this kind of contest. All season long, you could wager on Monday Night Football games for a chance at a $10 million grand prize. There will be a lot more big-money sportsbook events from Caesars.
Caesars Casino Promotions and Bonuses
The Caesars Casino promo code is offered in various casino promotions in certain states. This may include a deposit match of up to $2,000 on slots and video poker or a deposit match of up to $500 on table games like blackjack and roulette of a 100 percent deposit match. In addition, this casino is among the nation's finest, with reload bonuses and other ongoing promotions.
Rewards Program
After registering for an account, you will be enrolled in the Caesars Rewards program. For example, if you wager $5 on sports, you'll get one Reward Credit, a loyalty point. In addition, Caesars Entertainment facilities, such as Caesars Palace, Flamingo, Paris, and The Linq in Las Vegas; Caesars Atlantic City; and the Harrah's and Horseshoe brands, may redeem points for free bets, hotel stays, show tickets, spa treatments, and shopping vouchers.
You'll start as a Gold Member and work up to Platinum, the highest level. Then, diamond, Diamond Plus, Diamond Elite, and, lastly, Seven Stars, the highest VIP class, are the following tiers. As you progress through the ranks, the prizes become better and better.
What We Love About Caesars Online Sportsbook
The following are our top three reasons for choosing the Caesars Palace Sportsbook over the competition.
Sign-up Promotions: This is one of the most generous sign-up bonuses you'll find anywhere. It's a no-risk bonus of up to $1,250 for their first bet. The most effective way to take advantage of this deal is to sign up with Caesars Sportsbook and use the promo code NJ ODDSPROFITFULL.
Wide Selection of Banking Methods: Remote wagering on sporting events is now available with online sportsbooks. Why bother if you can't rapidly deposit or withdraw cash? Having so many alternatives at Caesars is a boon to those who want to do both.
Loyalty Rewards: Having a Caesars customer loyalty program is excellent since it rewards players according to how much they gamble. Some still aren't satisfied with the amount of work necessary to get points. For every ten dollars wagered on sports, you get one point. A ten-dollar return is available once you accumulate 1,000 points.
Things We Look Forward to Improving at Caesars Sportsbook
To become better, some things should always be open to the potential for growth. So now, here are some of the top ways Caesars can improve.
Affordable Promotions: To be eligible for several of Caesars' promotions, you must bet a minimum of $50. Their competitors, such as PointsBet, DraftKings, FanDuel, and BetMGM, offer much lower competition entry costs. '
Independent Application: Comparing Caesars' sportsbook to its online services, it's impossible to claim that it's much more than an afterthought. A sportsbook application might quickly solve this issue. Thus, sports bettors would benefit from a product tailored to their needs while reaping the benefits of doing business with a reputable brand like Caesars.
Your First Bet Is On Caesars Up To $1,000
Caesars Sportsbook Customer Service NJ FAQs
How do I unlock my Caesars sportsbook NJ account?
Click the Reset Password button and input your login or Caesar's Rewards account number. Then, call the Caesars Sportsbook NJ Customer Service at 1-800-342-7724 for help resetting your online passcode if you know your account number.
Can I access Caesars sportsbook online?
To link your online Caesars Casino & Sportsbook profile with your Caesars Reward profile, click the link below. To link your account, click the following link.
Is Caesars Sportsbook legit?
Yes, the New Jersey Division of Gaming Enforcement has issued a license to Caesars Sportsbook. For a sportsbook to be considered legitimate, it must be approved by the regulating agency.
Where is Caesars sportsbook located?
For now, sports wagering is only offered to residents of the following states: Arizona, Illinois; Indiana; Iowa; Louisiana; Michigan, Maryland, Colorado, Virginia, New Jersey, North Carolina, New York, Tennessee, West Virginia and Washington, DC. Caesars Sportsbook Permit Submitted in Louisiana for Harrah's New Orleans, Horseshoe Bossier City, and Horseshoe Lake Charles facilities.