Popular online sportsbooks are increasingly offering prepaid cards as a way to provide bettors with more options for managing their funds.
The Caesars Sportsbook prepaid Play+ card easily transfers funds between your bank account and online wagering balance. The card is so effective that it has rapidly become our preferred prepaid wagering card.
The Caesars banking online prepaid card functions as a bank card that can be linked to PayPal, a credit card, or a debit card for fast money transfers.
Your First Bet Is On Caesars Up To $1,000
The Caesars Sportsbook prepaid card is simple to use, has no maintenance or fees for transfers, and can be utilized anywhere Discover cards are permitted and at tens of thousands of ATMs.
While registering for the Caesars Sportsbook along with the prepaid card, be careful to claim the risk-free first wager up to $1,250, 1,000 reward points, and tier credits by entering the promo code.
The registration process, the functionality of the Caesars Sportsbook prepaid Play+ card, and the online financing options are discussed in the following section.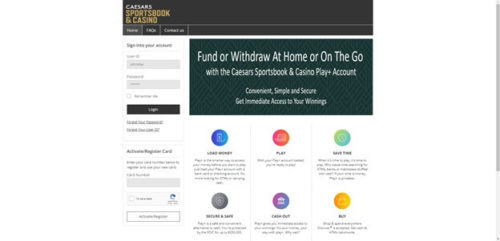 What Exactly is the Caesars Prepaid Sportsbook Card?
After making a Caesars sportsbook login and depositing at least $150 using the Play+ option, a prepaid card will be dispatched to the provided address within 14 days. The physical card can be used as a credit or debit card inside the Discover network or to withdraw funds from ATMs nationwide.
Caesars Prepaid Card Registration
Register for exclusive use and the prepaid card by signing into your Caesars Sportsbook account and accessing the page for depositing funds. Then, select the option for funding with priority access.
To enroll, you must provide your Social Security number along with your date of birth. First, verify that your mailing details are accurate. Then, select the button to create an account after reading and consenting to the account's terms and conditions.
When you create an account, your prepaid card's PIN is initially set to the last four digits of your social security number. Still, you can alter it once the card is activated.
You can reset your PIN by phone or by visiting wh.mycardplace.com. In addition to reporting lost or stolen cards, users can verify their available balance.
Guide to Obtaining a Caesars Play+ Card
Bettors at the Sportsbook of Caesars can join the Play+ program by choosing a prepaid card selection from the list of deposit methods. In addition, your registration information for your sports wagering account will populate the application.
A minimum Play+ deposit comprising $150 is required to activate the mailing process for prepaid cards. The money is immediately accessible. PO receptacles are not permitted. Employing the Caesars promo code, you can create an account and receive a risk-free first wager of up to $1,250 by clicking here. A minimum wager of $10 is required to be eligible. Any refunded free wager credits expire two weeks after receipt. Free bet wagers aren't accounted for in any payments.
Your First Bet Is On Caesars Up To $1,000
Funding the Caesars Play+ Card
The Caesars Sportsbook Play+ card is compatible with a variety of payment options, such as bank account transfers, credit or debit cards, eChecks, and your PayPal account. In addition, users can save their deposit preferences for future use. There is a minimum deposit requirement of $20 and a maximum daily withdrawal limit of $5,000.
Transferring funds from your Caesars prepaid card to your secure online sportsbook balance is free. Still, deposits to your Play+ card incur a 2.95 percent per transaction fee. In addition, after six months of inactivity, a monthly inactivity charge of $2.95 is applied to the account.
Using a bank card, transfer funds onto your Play+ card as follows:
Select the Play+ deposit method

Click add assets

Enter the amount you intend to deposit in dollars.

Select credit card deposit

Enter your credit card number.

Input your security code and the date it expires.

Select add assets

Confirm that the financing amount is accurate.

Select account funding
Withdrawals from Caesars Sportsbook Prepaid Cards
Bettors on sports can transfer funds from their Caesars online wagering account to their prepaid card account, which is able to be used anywhere Discover cards are accepted or for cash withdrawals at thousands of ATMs that support PULSE and NYCE cards. Possible ATM fees may apply. Multiple times per day, withdrawal requests undergo processing and typically appear inside 24 hours. Initial transfers may require up to three business days to complete. Prepaid vouchers may additionally be used at Play+ locations for gaming.
Methods for withdrawing funds:
Sign in to your account at Caesars Sportsbook and visit the withdrawal page.

Click the withdrawal icon for Play+

Enter the quantity to be transferred

Select Continue
Advantages and disadvantages of the Caesars Prepaid Card
The Caesars Sportsbook prepaid Play+ card is a quick, dependable, and secure method to transfer funds between your bank and online sportsbook accounts. Bank transfers can be made using standard methods, such as credit or debit cards or a PayPal account.
In addition, the Play+ card can be utilized anywhere Discover cards are permitted and to withdraw funds from thousands of ATMs across the country.
Depending on how you typically make online gambling deposits and the frequency of your wagers, the rare prepaid card extra step to transmit funds and fine print fees may outweigh the benefits of the prepaid account card.
Your First Bet Is On Caesars Up To $1,000