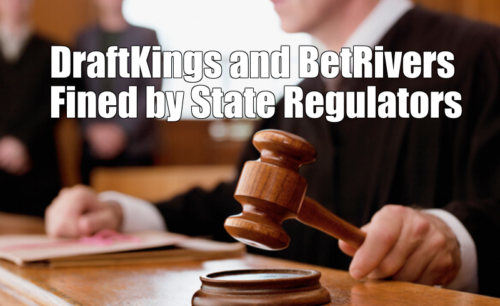 Despite having probably the best regulatory system in the country, bookmakers in New Jersey continue to stumble. According to the Division of Gaming Enforcement, Director David Rebuck issued significant penalties on two New Jersey sports betting companies late last month.
The Director imposed a $7,500 sanction on DraftKings Sportsbook NJ and a $2,000 penalty on Rush Street Interactive, the owner of BetRivers Sportsbook NJ. While the penalties themselves are minor in terms of total money owed, they are notable.
DraftKings NJ has been Penalized for Taking Action from a Self-Excluded Bettor
The DGE's first major fine was levied against DraftKings Sportsbook NJ, which, according to the DGE, allowed a self-excluded individual to open an online sports betting account and place bets.
Rebuck's action, dated Oct. 24, and referring to an Aug. 15 complaint, quoted NJAC 13:690-1.4(j)(3), which says:
Internet and mobile gaming systems shall use a mechanism that suspends an Internet or mobile gaming account:

When launched by a licensee with evidence indicating: i. Illegal behavior; ii. A negative patron account balance; or iii. An approved patron's Internet or mobile gaming account has been subjected to a violation of the terms of service.
As a result of the violation, Rebuck fined DraftKings $7,500.
Rush Street is in Violation of Sports Pool Restrictions
Rebuck detailed a breach committed by Rush Street Interactive, which operates BetRivers Sportsbook NJ, in an order dated Oct. 25.
According to the DGE, Rush Street breached the regulatory body's guidelines for unapproved events from March 2020 to April 17, 2020, and from January 19, 2021. Rush Street also failed to comply with NJAC 13:69N-1.9 and NJAC 13:69N-1.11 on July 18, 2021, and September 18, 2021.
The first rule requires a "sports pool operator" to "establish and maintain a sports pool lounge of sufficient square footage to promote optimum facility security." It includes security and surveillance equipment. The second reference, 13:69N-1.11, is to internal controls. The division requires sports pool operators to file details of their internal controls "for all aspects of sports pool wagering operations. " Those operators are not permitted to initiate sports pool wagering unless the DGE approves those internal controls.
As a punishment, Rebuck imposed a $2,000 fine on Rush Street.