After creating an account, the next thing you would do is head on to the DraftKings Sportsbook Login page. It is where you will start your journey on betting on your favorite major sports events.
But before that, what is the process you need to complete before you can enjoy the DraftKings sportsbook app? Well, this Draftkings review page will cover everything you need to ensure before you can proceed with the DraftKings Sportsbook.
How Can You Log In at DraftKings Sportsbook New Jersey?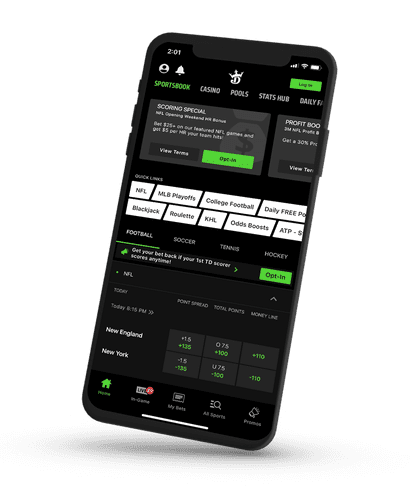 Logging into your account is easy. But, before you can log in, you must have an account in the sportsbook.
First, set up an account. Then, choose whether you'd want to use your email and password or your Facebook information. Because social media platforms nowadays are used widely, they have made it easy for players. As a result, you may use the DraftKings login with Facebook to access your account.
If you also like the traditional way, you may use your login credentials to access the DraftKings app or website.
Things To Remember Before Creating an Account at DraftKings
The first thing you have to ensure before creating an account at DraftKings is, of course, your age. You have to be at least 21 years or older before you can create an account. After that, begin the sign-up procedure by hitting the "Sign Me Up" button.
DraftKings Sportsbook login uses a geological tracking technology wherein they can trace your current location. So to qualify for a new account, you must be in the state of New Jersey. Once you try to place any wagers outside New Jersey, you will be prohibited and given the same penalty warning.
In addition, they will inform users that they have stored their user information and may follow up with "enforcement action" if you try to register again in the future.
Although DraftKings may deserve a few of the blame, users shouldn't hold it against them. Since this sportsbook's the first to be established in New Jersey, expect it to be the standard procedure on all other newly-opened New Jersey sportsbooks.
DraftKings Sportsbook NJ Welcome Bonus 2023
Online Sportsbook
DraftKings Sportsbook New Jersey
DraftKings Promo code
Click to Claim Promo
Total Bonus
Up to $1,050
Free Bet
$50 with any deposit
Deposit Bonus
20% up to $1,000
DraftKings Legal States
AZ, CO, CT, IL, IN, IA, LA, MI, NH, NJ, NY, PA, TN, VA, WV & WY
DraftKings Sports Offered:
NFL, MLB, NBA, Golf, NHL, MMA
Last Updated
November 2023
The DraftKings Sportsbook NJ Software
New Jersey was the first state beyond Nevada to make it legal to play on athletic events, putting DraftKings well positioned to open the first sportsbook in the state. Although, in 2018, the Supreme Court of the United States decided to overturn the 26-year-old PASPA federal ban on sports gambling. DraftKings and FanDuel ruled the Daily Fantasy Sports industry.
In 2012, DraftKings was established by Matt Kalish, Paul Liberman, and Jason Robins in Boston. And, over the years, it has already made more than $5 billion in sports fantasy games and competitions with monetary prizes in 11 major sports in eight different nations such as the US, the United Kingdom, Australia, and Canada.
The Mobile App
Players may get the DraftKings Sportsbook app for Android or iOS smartphones. Alternatively, go to our links on this page, and you will be able to install the app from our website.
Once you log in, look for the Sportsbook option on the left side of the DraftKings home page. To check your current location, DraftKings will first ask you to download position plugins.
Kambi, a well-known European sportsbook provider, is behind the software for DraftKings. Kambi powers two additional New Jersey sports betting applications, as well.
As of now, NJ is the only state in which the DraftKings Sportsbook is authorized. Thus to use it, you must be confirmed as being a citizen of New Jersey. If you are still logged in after having left the state's borders, your session will terminate.
Additionally, the DraftKings sportsbook app and site is obliged by state law to send you an email whenever you sign in. Thus, it serves the interests of consumers by helping to safeguard them.
Who Is Allowed To Register At Draftkings Sportsbook 
In general, only one rule must be followed when registering for a DraftKings account. Only players aged 21 and up in DraftKings states are permitted to participate.
State law determines the only exceptions. Some New Jersey residents, for example, are barred from joining DraftKings because their jobs revolve around sporting events. As a result, players, coaches, trainers, and referees are not allowed to gamble on an online sportsbook.
Similarly, certain casino employees are not permitted to use DraftKings NJ Sportsbook. If you believe you may have a disqualifying job, seek clarification from your employer, DraftKings sportsbook NJ, or your state's gaming authority.
DraftKings Customer Service
In general, DraftKings support provides excellent customer service and support. DraftKings customer service professionals are accessible around the clock – on both the app and the website. Look for the 'Help Center' or chat box in the lower right corner of your account page.
Email them at [email protected] if you prefer to reach them that way. They're generally quick to answer, and you can keep the dialogue going through email. On the other hand, you may use the DraftKings support form on the assistance page to send a message to our support team.
Unfortunately, you can't dial a phone number to obtain assistance, but you may sign a form to ask for a call. Players may also leave a message to DraftKings support to clarify their problem and await a response. The number 1-(855)-357-2377 may be used to leave voicemails. They must include the player's real name, phone number, and DraftKings login in any voicemails left to obtain a response. The rules and scoring, FAQs, and "how to play" sections are also present.
DraftKings Login FAQs
Why can't I log into DraftKings Sportsbook?
Read the instructions if you have difficulties using the DraftKings website: First, stop your pop-up blocker and make sure it is deactivated. Additionally, make sure that you have the most recent edition of your browsers installed. Please remember that you must be signed in to use some of our services.
How do you access the sportsbook on DraftKings?
If you don't have an account, you can register online or download the app using our links on this page.
Finding the particular sport and result you want to wager on is crucial, so choose wisely.
If you want to place bets as the action occurs, follow the games to place live in-play bets and enjoy!
How do you use the DraftKings app?
Completing the Login process on the DraftKings Sportsbook app is easy. First, for you to place a bet, enter your DraftKings sportsbook login details. To keep the app secure, you must always log in first. So while other applications install themselves on your phone, this app doesn't have you sign in until it's done.
How do I change my password on DraftKings Sportsbook?
First, click 'Login' found on the DraftKings main lobby at the top-right corner.
Next, if you forget your password, enter 'Forgot your password?' below.
Finally, fill out the form below for DraftKings sportsbook change password, then click 'Submit.'
You will get an email with a link to change your password.