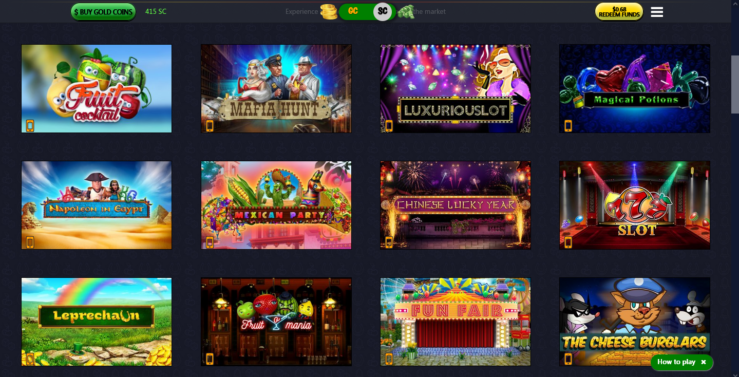 SweepSlots is a gambling site that makes use of a sweepstakes method to provide legal prizes in cash to participants from every state in the United States except Washington. It also provides a two-part sign-up incentive to new consumers.
To begin, when you register an account, you will receive 1,000 Sweeps Coins and 10,000 Gold Coins. Then, if you buy Gold Coins, you may make use of the SweepSlot promo code to get an additional 25% off. You can then use the money to play SweepSlots' 20+ slot titles.
Continue reading to learn more about the SweepSlots welcome bonus and other player perks, the sweepstakes structure, how to get your Sweeps Coins for actual wins, and the many games available.
SweepSlots Welcome Bonus and Bonus Code 2023
Create an account at SweepSlots to get the first half of the welcome bonus, and the bonus currency should show there. Then, after playing the casino games and purchasing your first Gold Coin package, use the bonus code to receive 25% extra Gold Coins and free Sweeps Coins.
Click the account option in the upper right corner of the window to do so. Next, under the drop-down menu, select "Finances," then "Instant bonuses (details)," and finally, "Edit favorite bonus code," where you can type in the SweepSlots bonus code and complete your purchase.
How do I Join SweepSlots?
It is quick and straightforward to open a new SweepSlots account. First, visit the SweepSlots website and click the "Register" button on the top left side of the page if you are not less than 18 years old. You may also sign in with your Facebook login to expedite the process.
If you are not already on Facebook, enter a username and password of your choice and your email address, name, gender, date of birth, phone number, and residence address. Keep in mind that the information you input must correspond to the information on your driver's license or other official identification.
Next, please choose a security question and answer it, then enter a Captcha code. Finally, after you've agreed to the site's legal papers and other choices, click the "Register" button to finish the registration process.
SweepSlots will send you an email with a confirmation link once completed. Use the link to validate your email address, then log in to the site and enter a site nickname.
How do I Obtain Sweeps Coins?
In addition to the welcome bonus, there are three standard methods to obtain more Sweeps Coins:
Packages of gold coins are included.

When you sign in every day, you will receive a daily bonus.

A written request sent by USPS mail.
When you purchase Gold Coin packages, you will receive complimentary Sweeps Coins. Furthermore, when you log in to your account once a day, you can claim extra free Sweeps Coins and Gold Coins. The site will automatically display your Gold Coin balance when you log in. Toggle to Sweeps Coin mode by clicking the button at the top of the page.
Sweeps Coins are only usable for 60 days from your initial login, regardless of whether SweepSlots provided them to you or you won them.
Where can I find Gold Coins at SweepSlots?
When you log in, you'll receive a daily bonus of Gold Coins. In addition, sweep Slots also offers Gold Coin packages beginning at $10. To do so, go to the homepage and click one of the "Deposit" icons, then choose a payment option.
You are able to make purchases with Skrill or Sweeps Coins earned by playing the site's games. SweepSlots also claims to accept several forms of cryptocurrency.
It is essential to remember that you must first create a Skrill account before you can employ it as a means of payment. To fund your Skrill wallet, go to the Skrill website and add funds from your own bank using ACH e-check or other available banking channels. When asked if you wish to employ your Skrill wallet to support an online gambling site, you must say "No." SweepSlots is a sweepstakes website, not a casino.
Player Loyalty Rewards Program
SweepSlots did not offer any incentives for existing customers in its first month of operation other than a range of discounts on Gold Coin packages. However, check the SweepSlots offers page frequently to see if new deals are available.
SweepSlots' loyalty program, which is likewise in its early stages, only offers a little to gamers. Therefore, it could be a good idea to save any loyalty points you acquire till later in case the perks improve.
You may now spend your loyalty points to earn more free Sweeps Coins in the VIP Store. However, they require a 100x playthrough. If you take an offer and later discover that you are unable to meet the condition, contact customer support for assistance in canceling your commitment.
SweepSlots Player Assistance
The SweepSlots customer service is available 24 hours a day, seven days a week by support ticket, email ([email protected] or [email protected]), and phone at 800-416-6788.
There is also a brief FAQ (accessed via a link at the lowest part of the screen) and a training video (accessed via the "How to Play" link). Furthermore, it is usually a good idea to read the terms and conditions of each website. (also available via a link at the bottom of the screen).
To utilize the help ticket system, submit your site username, full name, and a detailed description of the issue at hand, including the date and time.