Top NJ Progressive Jackpot Slots are available in both land-based and online casino sites in New Jersey like the ones in BetMGM Casino.
The Garden State has a wide range of online casinos with a wide range of games. While mobile slots are always popular, those with a game show theme are much more famous than ever.
The jackpot grows until somebody hits it, meaning that players will learn about it and go after it when a progressive jackpot grows large enough. More people are participating, raising the prize even higher. Many progressive jackpots in New Jersey regularly reach seven figures.
Continue reading to learn how NJ progressive jackpot slots operate, where you can locate them online, and which ones have large and ever-growing jackpots waiting to be won.
100% Deposit Match Up To $1,000 + $25 On The House
100% Up To $1,000 First Deposit Bonus + $20 on Sign Up
Up To $100 Cashback + $30 Free On Signup
1x playthrough requirement
100% Deposit Match Up To $500
100% Deposit Match up to $2500 + $25 on the House
100% Deposit Match Up To $2,500 + 2,500 Reward Credits®
50% Deposit Match Up To $1,000
100% Deposit Match Up to $500 + 100 Free Spins
100% Deposit Match Up To $500
Progressive Slot Machine Types
Progressive slots can be either stand-alone or linked progressives, which include network-wide and area progressives.
Stand-Alone Progressives

: A progressive jackpot is featured on a single slot in a stand-alone progressive. The jackpot is enclosed on that single slot, which means it grows when people play that slot and can only be won.

Linked Progressives

: Jackpots in linked progressives are shared by multiple slots.

Area Progressives

: these are jackpots linked across multiple slots in a specific area. It could imply a linked progressive jackpot on the same game or sequence of games at a group of linked New Jersey online or Atlantic City casinos.

Network-Wide Progressives

: The largest progressives are network-wide, frequently featuring life-changing jackpots across a country-wide network on multiple slots. That could mean slots or a series from California to New Jersey in casinos. It could also refer to the same slots or a series in various states where the law permits it.
Top Jackpot Slots Online
Big One is a linked progressive slots series by Borgata Casino and BetMGM Casino. The Big One progressive jackpot was more than $3.2 million in July 2020. The Big One connects a growing collection of slots on Borgata and BetMGM, which now includes:
MGM Grand Millions

Melon Madness Deluxe

Going Nuts

Biker Pigs

Luck o' the jackpot

Loot'enkhamun

Melon Madness

Book of Myths

Spin Bandit

The Win Genie
READ MORE: Is Slot Rush App Legit?
When a New Jersey woman hit The Big One progressive jackpot on BetMGM casino in late July 2020. It was the largest jackpot required to pay out by a New Jersey online casino.
The mercy of the Gods (avg. $108,000+ jackpot), Divine Fortune (avg. $85,000+ jackpot), and several smaller progressive penny slots are available at Borgata and BetMGM.
The Ultimate Genie slot is no longer available at Harrah's Online Casino. Casino Reels (avg. $21,000+ jackpot), The Royals Go Camping (avg. $22,000+ jackpot), and Ultimate Universe (avg. $31,000+ jackpot) are now among Harrah's progressive slots.
BetMGM Online NJ Progressive Jackpot Slots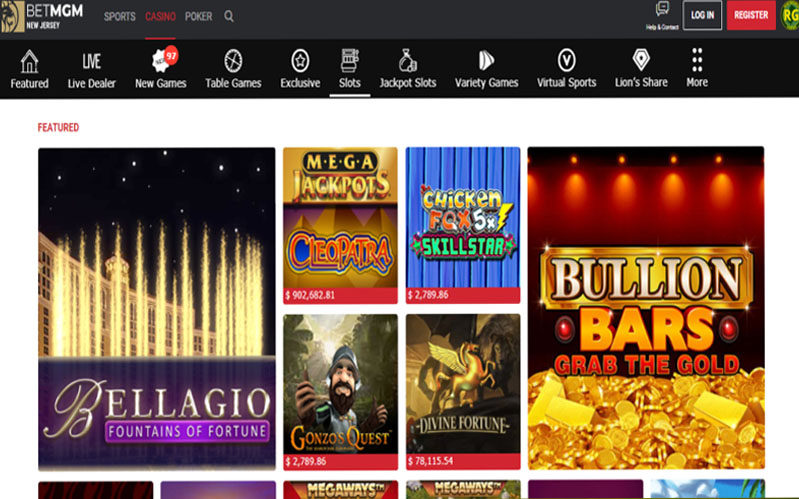 Through its Mega Jackpots Wheel of Fortune On Air slot game, BetMGM Casino NJ highlights another version of Wheel of Fortune. However, this one is distinguished from the others by the presence of a progressive jackpot.
When playing Wheel of Fortune On Air, you can win the jackpot with just about any spin at any wager level. It makes it quite appealing, as the slot's jackpot is worth slightly over $565,000 at the time of writing.
If you match three or much more bonus symbols on a single spin, you will be allowed to spin the Wheel of Fortune to see if you have unlocked the jackpot bonus. That's when you spot an opportunity to win the big prize.
It also has many other multipliers and bonuses scattered throughout the game. For example, the progressive slot from BetMGM has 20 paylines and an RTP of 92.55%.
How Does The Progressive Payout Percentage Work?
The return-to-player rate of a slot machine is theoretically the percentage of the money it takes to pay back to players over time. In other words, if a slot does have an RTP of 95%, it will ultimately pay out 95% of the money it receives.
That doesn't mean you'll get $95 for every $100 you put within the slot when you sit down and play. That $95 will be distributed to players over time, but it does not necessarily include you.
It all comes down to timing. You must be on the right side of the slot's RTP at the right time to win. The RTP should be recognized over time, not during each playing session.
The house edge is the inverse of RTP. The casino has a 5% house edge on the same slot, with an RTP of 95%. That means the casino will keep 5% of every dollar wagered on that slot.
Progressive slots have lower payout ratios in general. Since much of the money collected by a progressive slot machine goes toward the jackpot, the other payouts are usually smaller and less common.
The point is that playing progressive slots is about trying to chase life-changing jackpots rather than RTP.
How Does One Go About Winning A Progressive Jackpot Slots?
No real strategy can ensure a win on any progressive slot machine. Slots are all about luck, not skill; you'll need a lot of it to win a progressive jackpot.
You must, however, stand a chance to win. So while it varies by slot, it almost always means placing the maximum bet.
In other words, unless you place the maximum bet on most progressive slots, you will not be lucky enough to win the progressive. Of course, you still can play the game, but why should you?
There are numerous slots with higher RTPs that you can play for pennies. However, it would be best if you only played progressive slots to chase the jackpot, which almost always means betting the maximum amount.
It's a safe bet that chasing jackpots will cost you. After all, the jackpot is funded by every losing spin.
Seeking to make the maximum bet on a progressive jackpot will undoubtedly prove costly over time. There is no guarantee that there will be a pot of gold at the end of this rainbow. As a result, when you play, you should adhere to responsible gambling principles.
That means deciding how much money you can feasibly afford to lose and sticking to it. Make sure that losing that sum will not harm the individual. Discipline yourself and avoid pursuing losses and that vast progressive jackpot pipe-dream that is unlikely to come true.
Survive financially so you can play another day again, and maybe you'll get lucky. Just don't expect it.
Adopting this mindset will allow you to limit your losses to what you can afford and continue to chase big progressive jackpots as an enjoyable pastime until you win some serious cash.