People have been drawn to the Wheel of Fortune casino NJ for decades because of their brightly colored spinning wheels and attractive payouts. These machines are a mainstay on casino floors. They draw people in with their distinctive sounds and wheels. But many people might not know that these popular machines were inspired by one of the most popular game shows in the history of American TV.
The Wheel of Fortune game show has been a big deal for decades because of its catchy music and fun games. And now, thanks to the creative minds at IGT, fans of the show can feel the thrill of spinning the wheel and winning big right on the casino floor. So, whether you're a giant Wheel of Fortune fan or want to try your luck in a fun and exciting way, the Wheel Of Fortune slot machine games will keep you busy for hours.
100% Deposit Match up to $2500 + $25 on the House
Wheel Of Fortune Win Real Money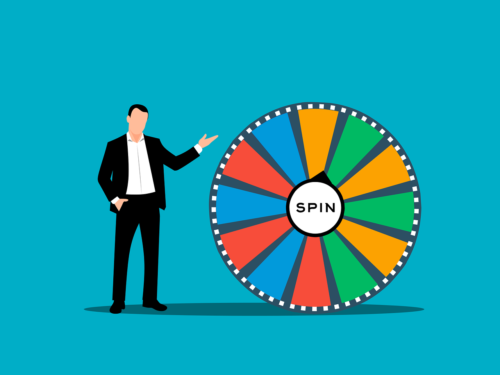 It's hard to say no to a slot machine that looks like one of the most famous American game shows ever. Players have been drawn to Wheel of Fortune slot machines for years because they are easy to recognize and pay big prizes. In addition, game show fans will recognize the sounds, music, and, most of all, the big spinning wheel on top of the machine.
The Wheel of Fortune slot machines work the same way as other three-reel machines, but their unique theme makes them stand out. With symbols and paylines that remind players of the game show, they can play Wheel Of Fortune online themselves and win a lot of money.
People who have always wanted to be on the game show can taste what it's like to be there with the Wheel of Fortune slot machines. The chance that a spin of the wheel will change their luck is enough to get many players to try it. And now that online casinos like FanDuel let you play for real money, it's easier than ever to spin the wheel and see what happens.
100% Deposit Match up to $2500 + $25 on the House
What is the NJ Sign-Up Bonus Code for Wheel of Fortune Casino?
All new players at Wheel of Fortune NJ casino will receive $25 in bonus cash, as well as the industry's biggest initial deposit bonus of 100% up to $2,500.
When signing up, use the Wheel of Fortune casino bonus code CWWOF to unlock this deal.
| | |
| --- | --- |
| 🎁 Wheel of Fortune NJ Bonus Code | CWWOF |
| 🎁 WOF NJ No Deposit Bonus | $25 in bonus cash |
| 🎁 WOF NJ Welcome Bonus | 100% match up to $2,500 |
| 💳 Minimum Deposit  | $10 |
| 🚀 Launch Date | March 8, 2023, |
| ✅ Bonus Code Verified | November 2023 |
How Does the Wheel of Fortune Casino Welcome Bonus Work?
All new players are eligible for the Wheel of Fortune welcome bonus, which includes a sign-up bonus and a deposit match offer. To claim this, go to the online casino and register an account in New Jersey.
The online casino will put $25 to your bonus sum once you've joined up and been validated. Except for jackpot slots, you can use it to play any title at Wheel of Fortune. Wager the amount once to make it available for withdrawal. This playthrough must be completed within the first seven days on the site.
After that, visit the Wheel of Fortune cashier to add money to your account. Make a first deposit of at least $10 to qualify for your second welcome bonus: a 100% deposit match bonus up to $2,500. The casino will double your initial deposit up to $2,500 in bonus cash that you may use on the site.
The wagering requirement for this bonus is more significant. To unlock it, you must play the amount 15 times, although different games count differently toward achieving this criterion. To prevent forfeiting any bonus wins, you must play through the offer during your first month on the site. Reach out to the Wheel of Fortune customer service team if you need to withdraw from the promotion at any moment.
How can I Get Started with the Wheel of Fortune Casino Online?
To begin playing at the Wheel of Fortune Casino in New Jersey, you must first open an account. To do so, go to the WoF casino website and click the 'Register' button. At the time of registration and play, every new participant must be 21 or older inside state borders. During registration, the casino will look into both of these variables.
To create your new player account, Wheel of Fortune will require the following information:
First and last name

Date of birth

Email address

Postal address

SSN's last four digits
These are all essential questions that an online casino must ask in order to confirm your identification.
The casino will authenticate your location by using geolocation technology. It will then check your age by using the last four digits of your Social Security number. Once your account is officially verified, you will be able to check in and get your $25 welcome bonus with ease. Make a deposit of $10 or more to receive your second welcome offer.
The main menu of Wheel of Fortune makes it simple to surf the site at any time you want. When you're ready, simply utilize the navigation bar to move between game kinds and choose the title you want to play. Most games provide a free game option if you want to try them out before spending money.
The cashier for the Wheel of Fortune may be located at the top of the webpage. You can use this tool at any moment to deposit money or request a withdrawal. The majority of transactions begin with a minimum of $10.
Can I have Many Casino Accounts?
Yes, and then you should do so. There are no online gambling restrictions in New Jersey that prevent you from using any regulated online casino. As a result, you can play at sites such as Wheel of Fortune Online Casino, Betway NJ Casino, Ocean NJ Casino, and others. It allows you to access more game options and bonuses.
Wheel Of Fortune Casino Slots
When you play Wheel of Fortune slot machines, you can earn spins on the big wheel, which is one of the most exciting parts. Depending on the machine and how much you bet, a spot on the wheel can be worth anywhere from 20 to 1000 credits. The best part is how easy it is to get free spins. All it takes is for the "spin" symbol to appear on the third reel's payline.
But spinning the wheel is exciting, not just because you might win a lot of money in Wheel Of Fortune gambling. The suspense builds with every play, as the player never knows when the opportunity to spin the wheel will present itself. So even if the first two reels don't make a winning combination, there could be a chance for a good spin soon.
Wheel of Fortune Casino Game Version
The most popular and well-known version of the Wheel Of Fortune slot machine has three reels and a big wheel on top. However, other versions are even more exciting and give you more chances to win. Wheel of Fortune Triple Extreme Spin is one of these variations. It has three wheels and five reels. In this version, the bonus game starts when at least three spin symbols show up anywhere on the five reels.
During the Wheel Of Fortune casino bonus game, each spin symbol on the reels lets the player choose an envelope. Each envelope has a number that matches a result on one of the three wheels. Two wheels have amounts to win, and the third has multipliers. If players are lucky and start the game with more than three spin symbols, they can get special multipliers, leading to massive payouts.
One of the best things about Wheel of Fortune slot machines will always be the chance to spin the big wheel. Whether it's the classic three-reel version or a more modern version, what keeps people coming back is the excitement and the chance to win big.
Wheel Of Fortune Jackpot
Wheel of Fortune slots are fun and give you a chance to win a progressive jackpot that could change your life. These jackpots start at high amounts and grow as more people play. For example, the jackpot on the 25-cent machines starts at $200,000 and continues until it is won. The jackpots on the $1 and $5 machines are even more significant, starting at a massive $1 million.
The WoF progressive jackpot is different because it is linked to all other machines in Nevada with the same bets that offer the progressive jackpot. This means the amount increases much faster than a standalone machine, creating more opportunities for players to win big. Also, when the Wheel Of Fortune online slot jackpot is won, it resets to the starting amount on all machines. This ensures that players always have a chance to win a lot of money.
To be eligible for the progressive jackpot, players must play the maximum number of credits on each spin: three for the 25-cent machines and two for the $1 and $5 machines. Even though not all WoF slots have this progressive jackpot, it has become a mainstay of the brand and a feature that players like.
When the Wheel Of Fortune slots jackpot grows unusually high, many people who don't usually play slots for real money will head to the WoF machines hoping to win the big prize. Players love the WoF progressive jackpot because it gives them a chance to win a large amount of money that could improve their lives at a low cost.
Is there any other Promotion at Wheel of Fortune Casino?
Other promotions are available to Wheel Fortune online free users on the promotions page. These promotions, as one might expect, include TV show tie-ins.
The most common promotion is a daily chance to spin the big wheel. With just a 1x playthrough, you could receive up to $25,000 in bonus credits based on the wedge you land on.
Another entertaining promotion is that on any weekend, you can select either RSTLN or E and receive a random prize. Other promotions vary, but they usually involve bonuses for trying to play one of the World of Warcraft-themed slots.
Wheel of Fortune New Jersey needs a loyalty program, which is disappointing given that nearly every one of its competitors does. On the other hand, Wheel casino has a partnership with BetMGM, offering a fantastic loyalty program called MGM Rewards. So, hopefully, this component will be added to Wheel of Fortune very soon.
What to Expect When You Play Wheel Of Fortune Slots Online For Real Money
Players who play Wheel of Fortune slot games can feel the excitement of one of the most popular game shows ever made and have the chance to win a lot of money. But with big potential rewards come significant risks, and people who play these games need to be ready for the ups and downs that come with them.
It is common for a player to sit down with only a few credits and not win anything for a long time. But when that lucky spin comes, it can change your whole life. A player can turn a small bet into a big payout in just a few minutes. They could win hundreds or even thousands of dollars.
It's hard not to want to play a game based on a popular TV show that has entertaining people for over 40 years. However, the WoF slots have been very popular with players, and it doesn't look like that will change soon.
The huge progressive jackpots are one of the most exciting things about these games. If a player is lucky enough to get the right combination of symbols, they could win millions of dollars. But it takes work to win these big prizes. A player must bet the most credits on their spin to be eligible for the big prize.
Overall, playing Wheel of Fortune slot machines can be very exciting. With the chance of big payouts and life-changing amounts of money, it's easy to see why these games have become a mainstay on casino floors worldwide. Just remember to play responsibly and be ready for the ups and downs of this kind of high-stakes gaming.
100% Deposit Match up to $2500 + $25 on the House
What is the Most Popular Wheel of Fortune game in New Jersey?
Here are some of the most popular Wheel of Fortune titles in New Jersey. These are excellent starting points if you're new to online casinos or want to try something new.
Wheel of Fortune Megaways:

The Megaways titles always prove to be most popular at NJ online casinos. Wheel of Fortune is no exception. This highly volatile slot will eventually offer a massive 1,000,000 Betways. Keep an eye on the diamond ring symbol that can pay up to 25 times your initial wager. The RTP of Wheel of Fortune Megaways is 96.46%.

Wheel of Fortune Ruby Riches:

If you're searching for a less volatile slot than the Megaways title, try Ruby Riches. This five-reel slot has 30 paylines and an extensive feature menu, which includes CashLink Deluxe and bonus spins. This flashy title has a respectable RTP of 96.15% and a maximum payout of 200 times your odds.

Winning Words: This IGT specialty title operates slightly differently, unlike many Wheel of Fortune slots. Winning Words features 12 face-down cards that each cover up a letter with a cash prize attached, with no reels or paylines in sight. Make a wager on a card of your selection, and if any letter matches the one in the displayed word, you'll win. Winning Words is a wonderful way to begin playing this Wheel of Fortune free slot game New Jersey online casino.
How to Get the Wheel of Fortune Casino App in New Jersey
The Wheel of Fortune app allows you to easily access the casino's banking, games, and promotions from anywhere in New Jersey. The Wheel of Fortune slots app is simple to install on both iOS and Android devices and is compatible with most smartphones and tablets.
To navigate between pages, use the Wheel of Fortune slot machine app easy navigation menu. Then, select whether you want to play the games you love in landscape or portrait mode. The Wheel of Fortune slots app has a lesser games library, but it still has a wide enough selection of titles to keep you entertained. Also, the software does not allow you to learn about bonus information. You can utilize the app to complete playthrough requirements, get free spins, and so forth. However, in order to access the bonus information, you must visit the desktop or mobile website.
Here's how to get Wheel of Fortune Casino on your mobile device.
iPhone Wheel of Fortune Casino
Install the most recent iOS update to take advantage of the finest Wheel of Fortune in NJ. Then, search for Wheel of Fortune Casino in the App Store and download it as usual.
Android Wheel of Fortune Casino
The procedure for downloading the Wheel of Fortune online casino Android app in New Jersey is simple. Please navigate to the Google Play store, browse for the Wheel of Fortune android app, then follow the on-screen instructions to download it.
Banking for Wheel of Fortune
All payments made from or to your Wheel of Fortune account are encrypted with SSL. Deposit monies into your casino balance starting at $10 using any of the following banking methods:
Visa, Discover, and American Express

Online banking with Trustly

VIP Preferred

Wire Transfers

PayNearMe

PayPal
How to Cash Out from the Wheel of Fortune App
Open the Wheel of Fortune cashier anytime to request a withdrawal from your account. These are typically handled within 24 hours. Withdrawals are accepted using Internet banking and e-wallets.
Customer Service at the Online Casino Wheel of Fortune
This NJ online casino provides its customers with a variety of assistance alternatives, beginning with a comprehensive FAQ. This section is accessible via the 'Help' option on the Wheel of Fortune. It contains information about games, banking, marketing, and other topics.
Alternatively, you can contact the casino's team in New Jersey directly using one of the following methods:
Contact information

Live chat

Email
The Origins of the Wheel of Fortune Online Casino
Following an arrangement between IGT and Sony Pictures Television, Wheel of Fortune was brought to the US casino sector in mid-2022. The internet casino is planned to start in New Jersey in March 2023, with more state announcements expected soon.
Final Word
Wheel of Fortune Online Casino is comparable to Bally NJ Casino in that it offers a simple gaming environment. However, because it is part of the ROAR Digital and MGM Resorts empires, it has a lot of room to grow. Having an online casino built on the most successful slot subject in history is, of course, a terrific place to start.
Aside from its ties to a renowned game show, this online casino offers a bunch of games, safe payments, and the state's most significant welcome bonus. So, if you enjoy what MGM Resorts has to offer in the digital realm and want to explore the brand's newest gaming venture, visit Wheel of Fortune Casino.
Wheel Of Fortune Slot Games FAQs
Can you win real money by playing Wheel of Fortune online?
Yes. You can now play Wheel Of Fortune real money at BetMGM! According to Adam Greenblatt, CEO of BetMGM,
"We are thrilled to bring Wheel of Fortune Online Casino to players in New Jersey, where they can now play for real money and experience the excitement of the popular game show on their phones."
Can you win money by playing Wheel of Fortune?
The online Wheel Of Fortune Slot Machine game has 720 ways to win and pays out a lot of money. However, before you bet real money to win the big bonuses, you can try the game for free.
Do Wheel of Fortune losers get money?
Even though the losing contestants are guaranteed to walk away with at least $1,000 in prizes because they often have to pay their way to get to the taping in Los Angeles, it's always better to leave with more, and Nura made sure Steve did.
What's the fee to be on Wheel of Fortune?
To get on Wheel of Fortune, all a person has to do is fill out an online application. The form must include a short video of yourself, and there's no cost to send it in!