Unibet offers Free Bet amidst its impression as a young and relatively new brand. Unibet has been in the industry for more than 20 years. As a result, it honestly really has something to offer for everyone.
In today's time, the New Jersey betting industry is highly competitive, with well-known companies occupying the state's sports betting industry. Because of this, Unibet free bet offers a lot of great incentives to keep the players betting, such as promotions and free bets.
Unibet Free Bet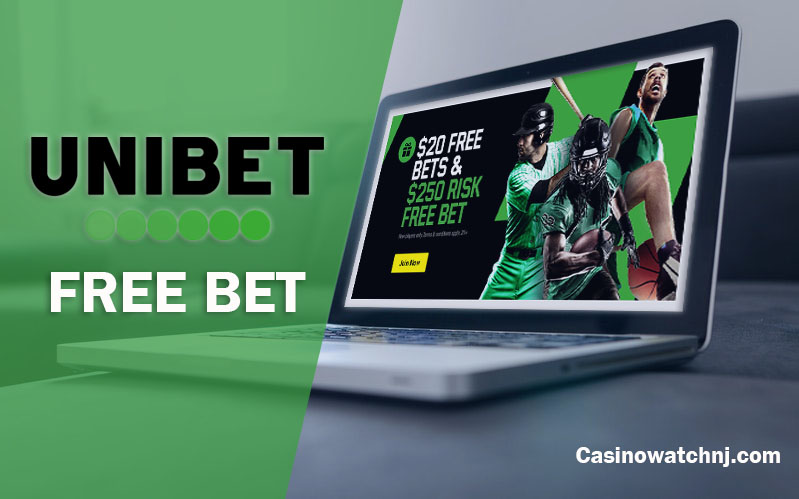 Unibet gives away free bets. In addition, Unibet rewards its most "loyal" clients with bet credits. 
The Unibet bonus is more than just cashback on risk-free bets. First, you get a free chance for signing up, even if you don't make a deposit. Then, when you register for a new account, you will immediately receive two free bets.
There is no requirement to deposit to receive this bonus. Instead, easily add any sports market to your bet slip, then click "Bonus Offers" to access your free bets.
You can use the free bet for any sporting events available on Unibet. If you win, they will immediately credit it to your account. 
You might also want to come by and learn more about the best free bet offers no deposit.
Unibet Free Bet Other Offers
Unibet Sportsbook NJ also provides new clients with a fantastic deal of up to $250 in risk-free bets and $20 in free spins to try out its Unibet online casino.
The risk-free bet of up to $250 refers to your first established bet on the site, given the odds are not less than -115. Next, make a deposit and select your bet size, ranging from $10 to $250. If you don't win, Unibet will credit the amount of your losing wager (up to $250) to your account. You will be refunded in under 72 hours. Unibet is distinct because other casinos do not pay out cash on risk-free bets, but Unibet does. 
The Unibet Bonus for New Jersey provides new NJ players with a bonus offer and a 100% match on their first deposit up to $500. The deposit requirement is $10, and the wagering requirements are 20x for slots and 100x for table games. These prerequisites are standard for welcome bonuses at online casinos. 
Typically, users will receive bonus money depending on the amount deposited on their first deposit during the first deposit bonus. On the other hand, the free bet bonus will pay back clients if their first wager on the site is unsuccessful. There are minimum and maximum sums that Unibet can grant for both types of bonuses.
You can also check the Unibet NJ sportsbook review to know more about the promotions and bonuses they offer.

Unibet Free Bet Terms and Conditions
The promotion and bonus period runs from 12:00 am on April 6th, 2021, to 11:59 pm on December 31st, 2025.
To qualify for this promo, you must be at least 21 years old and physically located in the state of New Jersey. In addition, you must have signed up for and received a legitimate and verified Unibet real-money account. Players who receive a bonus for the Risk-Free Bet refund are ineligible for the 100% Casino Match Deposit.
Players who place their first cash bet of at least $10 on any sports market will be qualified to apply for the risk-free bet refund. If the bet loses, players will receive a cash refund equal to their losing wager (up to $250). In addition, upon registration, players will automatically receive $20 in free bets.
To receive the welcome offer and the deposit match bonus, you must enter a Unibet Bonus Code. To obtain the reward, enter the Unibet NJ Bonus Code in the code field. Before activating the Unibet Bonus, make sure to read the terms and conditions thoroughly.
UNIBET FAQS
Does Unibet have Free Bets?
Unibet offers free bets. Unibet gives wager credits to their most "loyal" customers.
Is it possible to play Unibet casino games on my smartphone or tablet?
Yes, Unibet has a mobile app available for both iOS and Android users. Unibet's sportsbook app is also available on the App Store and Google Play. In addition, the Unibet sports app is fully functional.
Who is eligible to get a Free bet at Unibet NJ?
Bettors should be at least 21 years old and located directly in New Jersey. And NJ online casinos and sportsbooks require bettors to share their locations.
How do I get my free bet on Unibet?
You must place a minimum of four live bets weekly (Monday-Sunday). You'll get a free bet when your fourth wager is completed. You'll have seven days to use your Unibet signup free bet.
How does Unibet's risk-free bet work?
When you sign up for the Unibet risk free bet, they'll give you a pass on your next wager. If you win, you retain your money, and the bonus is complete. Unibet will refund your investment in bonus money if you lose.
How do I get my Unibet bonus code?
You don't need to do anything more than sign up for a Unibet account and take the bonus. Click on any of the Unibet sportsbook free bet code links found on this page to qualify for the bonus. Unibet will double your initial deposit up to a maximum once you have registered as a new client. So use the Unibet bonus to your benefit!
Which bet site gives free bet?
Aside from the Unibet risk free bet, new players at BetMGM may place a wager with no risk. FanDuel and BetMGM both provide no-sweat initial bets of up to $1,000. Another authorized online sportsbook in New Jersey is PointsBet, which offers new customers a free wager. At PointsBet, punters may wager up to $2,000 on two risk-free bets.