Suppose you wander into an Atlantic City casino and follow the crowd. In that case, you'll almost certainly end up at an NJ Online Craps table. If the shooter gets hot, you'll hear the crowd roar and clacking of chips whenever the stickmen pay out the wagers.
Craps, in addition to being one of the most exciting games on the casino floor, has a low house edge. As a result, good play with a particular combination of bets can reduce the house's benefit to less than 1%. It is comparable to blackjack and baccarat, two other casino games with low house edges.
However, for many online casinos, the quality of online craps NJ may be a low priority. Therefore, we start by choosing only licensed casinos with top-tier craps software.
That is not all, but we want easily redeemable welcome bonuses, quick payouts, a wide range of payment options, and full mobile functionality.
Best New Jersey Online Craps 2023
100% Deposit Match Up To $1,000 + $25 On The House
100% Up To $1,000 First Deposit Bonus + $20 on Sign Up
Up To $100 Cashback + $30 Free On Signup
1x playthrough requirement
100% Deposit Match Up to $500 + 100 Free Spins
Best Online Casino for Craps NJ
Legal online casinos in New Jersey typically provide more game offerings than land-based equivalents. Craps, on the other hand, is an exception. Craps isn't as widely available online as other classic casino games, with only a few differences. Still, here are a few of the most popular online casinos that do:
BetMGM Casino NJ 
The BetMGM, an industry titan, is one of the few casino sites in New Jersey that offers live dealer craps. In addition, you can try Evolution Gaming's First Person Craps, which has a return-to-player rate of up to 99.17 percent. In addition, BetMGM Casino offers a deposit bonus of up to $1,000 and a $25 no deposit bonus to new customers.
DraftKings Casino NJ 
The DraftKings Craps is an in-house title with the highest bet of $2,000, which is higher than other online craps variants in New Jersey. In addition, play Craps online and DraftKings Casino will match new customers' first deposits up to $2,000 and give them a $60 sign-up bonus.
Virgin Casino NJ  
The Virgin Casino has a Gamesys version of online craps. Return-to-player rates range between 83.33 and 98.64 percent. The maximum bet is six times the amount placed bets on the pass line. In addition, new customers can get a $30 no deposit bonus and a loss rebate of up to $100.
Bally Casino NJ 
One of the newly developed online casinos in New Jersey, Bally Casino provides a Roxor Gaming craps title with a wide range of betting options ($0.10 to $1,900). You can play the game for free or with real money. In addition, Bally will give you up to $100 in risk-free play when you make a deposit.
Tropicana Casino NJ 
The Tropicana Casino, with a maximum bet of $50, try a Gamesys title that suits casual players more than high rollers. New customers are eligible for a loss rebate of up to $100.
Borgata Casino NJ 
Borgata Casino has the same game selection as its sister site, BetMGM, which include live dealer craps. In addition, new players can get a $20 no deposit bonus and a 100% match during their first deposit up to $1,000.
PartyCasino NJ 
Like BetMGM and Borgata, PartyCasino offers Evolution Gaming's First Person Craps. When you register for an account, you will receive 25 free spins and a 100% deposit bonus of up to $1,000.
Pala Casino NJ 
Pala Casino offers an NYX Gaming craps variant with much less 2x max odds on pass line bets. It is, however, an alternative for high rollers, with a maximum bet of $500 per round.
Can I Play NJ Online Craps for Real Money?
Many of the casinos listed provide free online craps. Play Craps for free can be a good way for newcomers to become acquainted with the basics without having to put their money at risk. It can, however, become even more interesting when money is at stake. If you want to try your hand at Craps online for real money, reload the game and click the appropriate button.
However, to do so, you must first sign up with an online casino. When you do, you should be able to take advantage of some casino welcome bonus. If you can check the terms and conditions to see if craps count forward into clearing the bonus funds, you can use the promo money to start a game. Otherwise, you'll have to make a deposit to play.
Using Craps Online Casino Bonuses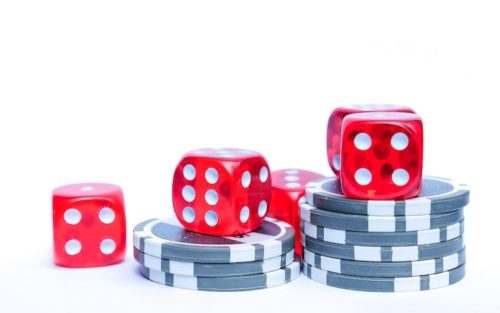 Big bonuses and online casinos go together. It is a common and effective marketing tactic for attracting new customers and keeping them loyal.
Bonuses can come in many different forms. For example, adding bonus money to your bankroll can help you keep your real money balance and, as a result, improve your odds of winning when playing casino games such as online craps.
But there's a catch. Casino bonuses frequently include wagering requirements, meaning you must wager a specific quantity on real money games before withdrawing the bonus.
The real kicker is that online craps casino bets do not add up toward meeting wagering requirements at many online casinos. Slots, on the other hand, usually count 100% of your wagers toward the requirement. As a result, it makes sense to use the bonus on slots first, then switches to craps.
How to Play Craps Online?
A typical real money Craps online game comprises two rounds. Before the initial phase, known as the come-out roll, you must decide whether to bet with or without the table.
The former implies that you're wagering on the pass line, whereas the latter implies betting against the pass line. In either case, drag the chips you want to bet onto the relevant section of the screen.
Passline Betting
A passline bet is a bet that pays out at even money. It implies that the cost you wager is the quantity you have a chance of winning. The gambler who rolls the dice is known as "the shooter," and before the shooter's "come out roll" (first roll), some other players in the game are offered the chance to place a passline bet on the shooter's come out roll.
Don't Passline Bet
The "don't passline" bet is precisely the opposite of the "passline" bet, in that these bets are wagered against the dice. As a result, some Craps players pertain to don't passline bets as "betting wrong," while passline bets are referred to as "betting right."
Additional Craps Bets
Gamblers can find field bets, hardways bets, proposition bets, big 8 bets, big 6 bets, and dozens of other Craps bets at live and online Craps tables. The passline and don't passline bets are the most straightforward bets for beginners. However, advanced players can also involve various other bets in their Craps betting strategy.
Can You Play Craps For Free Online?
Most New Jersey online casinos enable you to play games in demo mode. You can use the free online Craps games as a practice platform to hone your skills, try new tactics, and get a sense of the game.
Another way to essentially play craps for free is if an online casino provides a no deposit bonus that can be used on craps. If that's the case, you might even be ready to move away with some cash and play Craps for real money.
Here are some of the reasons why you should play free online craps before investing real money:
Try out the app and then see if you like the system.
Try out some big bets that you might not want to make with real money on the line.
Experiment with various strategies without depleting your bankroll.
How Can You Win At Craps Online?
Although craps have some of the best odds of any casino game, the house will always win in the end. Real money online Craps is a chance-based game; you have no control over the roll's outcome.
However, the house edge of the best online craps wagers is determined by the likelihood of various numbers. Therefore, combining particular wagers can decrease the house edge to less than 1%. For example, suppose you bet the odds alongside pass line bets. In that case, you will revoke a portion of the 1.41 percent house edge associated with pass line bets. It is also advisable to get their real money Craps app for convenience. 
NJ Online Craps FAQs
Is it possible that online casino Craps games are rigged?
They are not. Every roll of the dice in online gambling craps is processed by a random number generator (RNG), audited by gambling authorities to guarantee a fair return-to-player (RTP) percentage.
However, it would help if you made sure you subscribe to licensed online casinos to assure a low house edge and fair betting odds. To put your mind at ease, know that every online casino we review is fully licensed.
Is it legal to play online NJ Craps for real money online?
Yes, playing casino online Craps is just as legal as going to your favorite land-based casino and enjoying your favorite craps tables.
Do the best online Craps casinos have a low house edge?
Regarding casino Craps online, we can advise you that the best online craps bets have better odds. You'll have to deal with various house edges depending on which casinos you play real money craps at.
Licensed play Craps online for real money services will typically list their betting odds based on your come-out roll. We recommend that you research each one before putting money down.